Posts Tagged 'potty training'
**I received a promotional item in order to facilitate this review. All thoughts and opinions are my own. This post does contain links to an outside source.**
---
As I've mentioned in the past, potty train our sweet little Tatertot has been no easy task. We started on the potty training journey in 2010 and he just wasn't ready. We resumed in 2011 since he was going to attend preschool but unfortunately, we were not successful. By the fall of 2011 and knowing that we were expecting another baby, I knew we had to try again.
All aboard the potty train we went.
At first he struggled but his accidents were minimal. Within a month he was showing great progress and accidents were few and far between. Things continued with great success…..except one thing…he couldn't stay dry at night.
Up until February of this year, Tatertot went to bed at night wearing a nighttime training pant/diaper. He didn't have accidents in his training pants every night but there were more wet nights then dry. I think part of his problem is he is such a heavy sleeper.
In February, our family made friends with the Bedwetting Store and we were introduced to the Dry-Me Bedwetting Alarm. The Dry-Me bed wetting alarm is for kids ages 5+ that clips to the shoulder/collar area of the pajamas and the attatched moisture sersor is threaded under your child's pajamas and then clipped to the outside of your little ones underwear where the wetness would occur should there be an accident. Read the rest of this entry »
It has been 5 days since Tatertot has used a Pull-up!
We couldn't be happier!!!
This past Saturday I realized we were running low and that's when I decided we were slapping the plastic liner on his mattress and having him take a nap in his underwear.
Nap time was a success.
When he woke up 1.5 hours later he went to the bathroom right away.
Saturday night we decided he would go to bed for the night in his underwear as well.
He was asleep shortly after 8pm and woke up at 2:30am because he had an accident.
Yes he had an accident, but this was progress….he WOKE UP!!
On Sunday, he successfully napped in underwear once again AND made it from 9pm Sunday until 6:30am on Monday in his underwear with zero accidents!
This has continued since.
Last night, he was so tired he had an itty bitty accident in bed but woke up and ran to the bathroom to take care of everything and then went right back to sleep and made it through the rest of the night.
I am SOOOOOOO happy!!
We are finally done with Pull-ups and we don't have to buy diapers or wipes for Bean for quite some time since we stock piled while I was pregnant!
Here's to some extra money to put in savings for a down payment on a house!!!!
We recently went through the task of potty training our little Tatertot and I will be the first to admit, this was NOT an easy task. Teaching a little boy how to use the potty is very daunting. When we started on this, we taught him how to pee sitting down so he had better control of things. He was not of fan of sitting on the potty because he absolutely hated that his feet did not touch the floor and would just hang there. We have now successfully taught him how to do his business standing up, however this still requires a stool and of course he has to sit down to poo.
Last month, our issues were solved when I received an email about the Looster Booster and an offer to review one. The Looster Booster is a stool that conveniently fits right around the bottom of your toilet so the little ones have something to rest their feet on when using the potty and it does not need to be moved for an adult to use the potty either!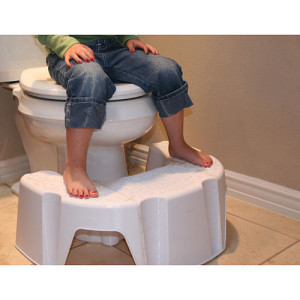 SCORE!
Since we have added the Looster Booster to our main bathroom, the little man has been loving life. He uses it every time he uses the potty and I have to say it has made potty time sooooo much better!! Now he doesn't rush to get things done and have to make multiple trips and he really likes that it is just for him!
As an added bonus, the Looster Booster is super easy to clean! I just spray it down and wipe to disinfect it in case we have any little mishaps!
You can see the Little Looster Booster in action below!
If you think the Little Looster Booster would be a great addition to your home, you can enter to win one too!!!
One lucky reader of The Megalomaniac Mommy will win a Little Looster Booster of their own!
MANDATORY 1st ENTRY:
Tell me why you think the Little Looster Booster would be a great addition to your home in a comment below.
For additional entries:
1. Follow me on Twitter for 1 entry. Leave a comment with your Twitter ID.
2.Tweet about this giveaway then leave me a comment with the link to your tweet. This is SUPER easy is your use the Twitter icon located at the top of this post.
3. Subscribe to my newsletter and leave a comment with your email address for 2 entries.
4. Subscribe to The Megalomaniac Mommy via a reader for 2 entries.
5. Follow me on Google Friend Connect (at the bottom of this page) for 2 entries.
6. Like The Megalomaniac Mommy on Facebook for 2 entries.
7. Follow The Megalomaniac Mommy on Networked Blogs (at the bottom of this page) for 2 entries.
8. Grab my button and add it to your page and leave me the URL for your page for 3 entries.
9. Vote for The Megalomaniac Mommy on Picket Fence Blogs for 1 additional entry by clicking on the logo below.
This giveaway will begin on November 13th 2011 and end on November 27th 2011 at 12 NOON CST and is open to US Residents Only. Winner will be notified via email and will have 48 hours to respond and claim prize. For more information on giveaways hosted by The Megalomaniac Mommy, please read the Policies page.
Disclosure: I was provided with a Little Looster Booster and no additional cost to me in order to test the products' abilities and give my own personal opinions on it. The opinions I have given are mine and may differ from others but were not influenced by the company or the free product provided.  All thoughts and opinions are our own.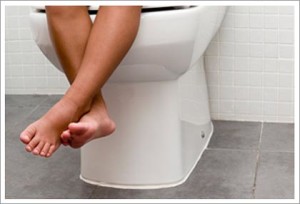 Exactly one month ago, we began potty training TaterTot. Let me assure you, this has not been an easy task for us.
Today, you can stop by our house for a visit and I can guarantee you that TaterTot will tell you that he is wearing either underwears or boxer briefs.
For the last month, I have to say we have been pretty successful. TaterTot is now going to the bathroom like a big boy all day long. We do experience the occasional accident here and there but really, there are not that many.
We are still using night time Pull-Ups when he sleeps since he does have a hard time controlling his bladder while sleeping but are confident he will begin getting himself out of them over the next month because he wants to be big and wear his boxer briefs to bed like daddy and Zman. He really just wants to be one of the boys.
I have to say that I am mighty impressed with the progress we made and know that things will only continue to get better. TaterTot is also aware that once he is completely out of Pull-Ups and 100% potty trained there is a nice present waiting for him.
Until then, I will continue to enjoy hearing TaterTot get excited when he poops in the potty and not in his pants!!!
I have also enjoyed the extra savings of not having to buy him Pull-Ups every week now and have started investing that money into diapers for Bean when she arrives!!