Welcome to The Megalomaniac Mommy!

I'm Anne Younger, the author and owner of this site. I am a full-time blogger and stay-at-home-mom of 5 kids, 1 furbaby and an amazing husband.
I started this blog in April of 2009 as a way to connect with other moms online and as a creative outlet for me. After being a stay-at-home-mom for 2.5 years, I decided it was time to stop being a mom who just reads blogs and become a mom who blogs. Since I started blogging I have grown to love it and everything I do so much that I obtained my AA in Information Technology and Web Design.
I have 5 children, ranging in age from 2 to 17 years of age.
Before I tell you all about my crazy clan, first you need a little background about how our family works. I became a mom back in 1999 at the age of 20 to my oldest, Zack. The following year, I became a mom to my second child, Libby. From the time I became a mom in 1999 until I met my amazing husband, Alex, in 2006 I was doing the single mom thing.
Alex and I had a whirlwind romance. We met in March of 2006 and were engaged 5 months later and living together a month after that. Alex and I were busy planning our wedding and enjoying our lives when we discovered that we were expecting our first child together and that I was due within days of our planned wedding date.
Needless to say, plans changed and we moved our wedding date up from March 15th 2008 to October 13th 2007.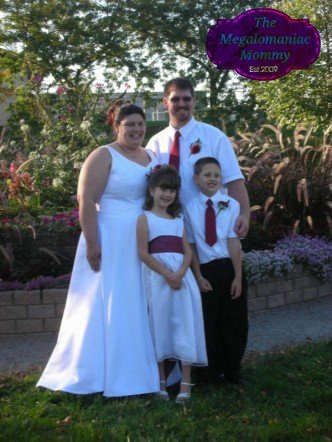 A lot has changed since we got married and now we are a family of 7!
Zack (17yo) is the oldest of the kiddos.
Zack is currently a Junior in high school. He enjoys lifting weights after school, fishing, golfing, playing games on his PS3, and is obsessed with all things Green Bay Packers and also a HUGE Wisconsin Badger fan since his cousin Mike Taylor played for them (LB #53). Needless to say, Zack LOVES football! Unfortunately, because of his 2 hip surgeries, he has elected not to play football anymore.
Libby (15 yo) is our Future Social Media Guru.
Libby is currently a Sophomore in high school and has a love for the arts and crafts, odd facts, and is a future social media guru. She is definitely not your average 15 year old girl. Someday's she is girly but most days she doesn't have a care in the world. She likes to drive everyone in the house insane but we all love her just the same. Libby also enjoys reading, creative writing, animals, and loves her Granny more than life itself! Her hobbies include YouTube, movies, Doctor Who and driving her older brother crazy. She has also developed a love of mismatched socks and funky print jeans.
She was also lucky enough to attend the Crayola Pop Art Pixies Premiere Party in New York City in November 2010 with her mom by her side!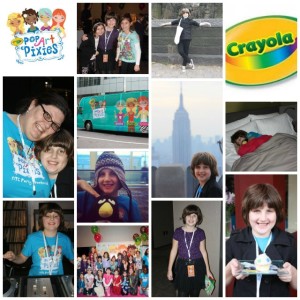 Alexander (8yo) is our ball of energy.
Alexander is currently in 2nd grade, he is a VERY active young man who enjoys Minecraft, Skylanders, his iPad and recently recovered from a 4 year addiction to all things Power Rangers. He loves being a big brother and hanging out with his little sister and brother, playing out side, riding his bike and just being a 7 year old boy.
Ellie (4 yo) is the Princess in our house.
Ellie is what we like to call our miracle baby. Early in the pregnancy, mommy experienced some heavy bleeding and made a trip to the ER via ambulance and was told she was miscarrying, only to discover the next day that Ellie was just fine and dandy in her happy little home! You can read all about it HERE.
Ellie is also the happiest child on the planet. She is very intelligent and is doing things far beyond her age. She has discovered her love for electronics, Dora, Diego, Sofia the First, Jake & the Neverland Pirates, Elmo & Abby Cadabby, Jimmy Fallon (yes, you read that right) and her siblings. Ellie is also our resident dancer and is currently learning tap and ballet.
Joey (2yo) is the baby of the family
Joey is our surprise baby. Why was he a surprise? Well, he was conceived AFTER Alex had his FIRST vasectomy (not to be confused with his SECOND vasectomy). Although a surprise, we welcomed him with open arms and he is definitely just what our family was missing. Joey likes to laugh, smile, sleep, play and listen to music. He loves to go outside or play on his iPad and is a fabulous snuggle buddy!
Alex is the man who works hard to provide for all of us.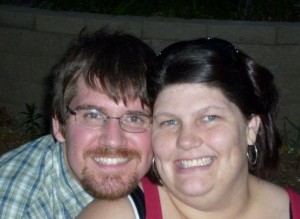 Alex is a HUGE Green Bay Packer, Wisconsin Badger and Milwaukee Brewer fan like the rest of our clan. He is also an avid reader and reads approximately 2.8 books per week and enjoys playing video games every chance he gets. From time to time, he does post reviews for books and games on this site. He works 3rd shift for an industrial paint manufacturer and he works—-ALL.THE.TIME. He works too much and doesn't get enough sleep and somehow still manages to put up with the craziness in our home.
Alex is an amazing father and husband and loves his family with all his heart.
Past Events
In November of 2010, Anne and the Libby were invited to attend the Pop Art Pixie VIP Party in New York City by Crayola. Anne was also a guest at the premiere of The Lion King 3D in Los Angeles in August 2011 by Disney and was a internet media guest at the 2012 International Home & Housewares Show in Chicago in March. In July of 2012, Anne was chosen to be a Verizon Wireless Midwest Savvy Mom.
Why The Megalomaniac Mommy?
The reason my blog is called The Megalomaniac Mommy is because after becoming a mom at the age of 20, I was diagnosed with bi-polar disorder. Since my diagnosis, I have welcomed 4 more children into my life. I have also learned to manage my disease without the use of medications by finding creative outlets such as my blog. I use Megalomaniac Mommy because as part of my disease, I do have natural highs at times where I feel as though I can do anything and as a mom, I strive to do everything and anything that I can for my children and family!
The following two tabs change content below.
Anne is a 30-something full-time SAHM mom of 5 ranging from 3 to 17 and grandma of 1 who resides in Ashwaubenon (Green Bay) Wisconsin. She started blogging in 2008 as a way to regain her sanity. She enjoys coffee, chocolate, cheeseburgers and vodka along with spending time with her husband and kids.
Latest posts by Anne Younger (see all)