*This is a sponsored post written by me on behalf of Just Between Friends of Milwaukee. This program is in partnership with Real Mom Media (www.RealMomMedia.com). All opinions are my own*
As you have all heard me say, multiple times, I love a good sale. When it comes to shopping for clothes for 5 kids as well as the gear they all need, I hate to pay full price and in most cases, I prefer to buy something that is used but it excellent condition.
Well, if you are anything like me and you are anywhere near Milwaukee WI, get ready for the Just Between Friends Consignment Sale at the Wisconsin Expo Center on the State Fair Park grounds, September 21st-27th 2014!!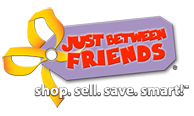 Just Between Friends is a HUGE consignment sale that takes over the State Fair Park and offers shoppers the chance to purchase items at great savings of usually 50-90% OFF retail prices!!!
Now, this isn't just a huge indoor rummage sale, Just Between Friends keeps quality and safety in mind and all items are carefully inspected to ensure you are getting the best items. You can bet you will find high quality, gently loved items and some times, even new!
If you are expecting, know someone who is or just have a few little ones at home like we do, this is an event you shouldn't miss!
This will be the first time I've attended a consignment event like this and I cannot wait to get some stuff for the kids for the winter!
Important Dates & Info to Remember
If you are planning on getting involved, doing some shopping or want to check things out, here are some important dates!
Cash, MasterCard, Visa and Debit cards are acceptable forms of payment.
Sunday, September 21st 10am-7pm $3.00 admission
Monday, September 22nd 10am-7pm
Tuesday, September 23rd 10am-7pm
Wednesday, September 24th 10am-6pm
Thursday, September 25th 10am-5pm (*25% off day)
Friday, September 26th 10am-7pm (*50% off day)
Saturday, September 27th 10am-1pm (*50% off day)
*State Fair may be charging for parking. NOTE this is State Fair and not JBF! You are welcome to park on the city streets or at the Petit Center and walk on over or bring your family and friends and split the cost of parking.
*Dressing rooms ARE NOT provided, so please measure your kiddos before you arrive.
*Only children 12 months and under are allowed in the sale and must be in a baby carrier. No strollers or wagons are permitted.
*Pursuant to the American with Disabilities Act, should you need accommodation in order to fully participate in our Just Between Friends Sale, please contact us at melindaherbert@jbfsale.com
**Twitter Party**
On Wednesday, September 17th, from 12NOON – 1:00pm CST, get ready to follow and tweet along using the #JBFMilwaukee and #consignment hashtags for your chance to win a front of the line pass and earn some JBF Bucks to use at the event and hunt down your #BestDeal!
Be sure to follow @JBFMilwaukee on Twitter
Want to save on entry to the sale on September 21st?? Grab the coupon below for free entry! (Print this page or bookmark it on your smartphone and show it at the door!)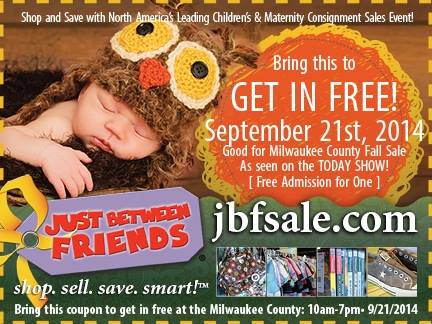 For real-time updates about this event, please be sure to visit the Just Between Friends of Milwaukee County Facebook page.
*This post is brought to you by our friends at Contigo. I received a promotional item in order to facilitate this review. All thoughts and opinions are my own. This post may contain affiliate links.*
If you know me in real life, you know that I am a coffee junkie. I love hot coffee, iced coffee, flavored coffee…really, I just love coffee. You can also bet that with 5 kids, 2 that are home with me daily, that I need coffee to get me through the day. Sometimes it's just a cup right away in the morning, sometimes it's a few cups in a row and most times, it's one cup throughout the morning to wake me up.
As you can imagine, keeping a cup of coffee hot for more than 30 minutes is pretty hard to do without constant trips to the microwave to reheat. Thankfully, I have a way to keep my coffee hot for up to 5 HOURS!!!
Meet the *NEW* Contigo West Loop Travel Mug.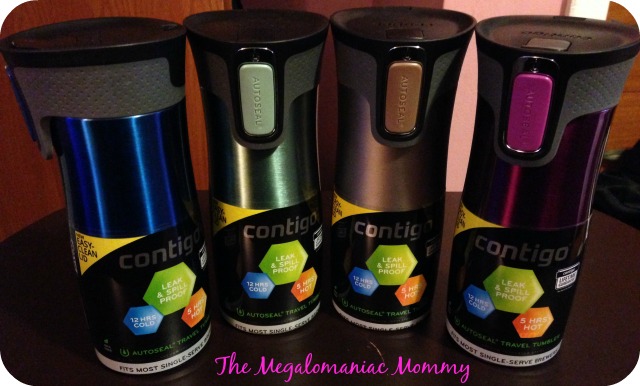 Now, I've been using a Contigo West Loop for the last year and have really enjoyed it. My only complaint about my original travel mug was cleaning the lid. After so much use it never failed that it started to smell because we just couldn't get it completely clean and I had to eventually toss it.
Thankfully the NEW West Loop has an easy to clean lip and spout!

I love this new easy clean lid! With the push of a button, all of the 'guts' of the lid pop out so you can clean every nook and cranny! Not only is this new lid easy to clean but it is also leak-proof so it's easy to drink on the go!
Another great feature is that the West Loop Travel Mug will keep your hot drinks hot for up to 5, yes 5 hours and your cold drinks cold for up to 12 hours without sweating! I know that it ACTUALLY does both of these since I like to sip my coffee throughout the morning most days and Libby used hers for ice water when she got it and the next morning it still had ice and was cold after 11 hours!
There is a reason that these are the #1 selling line of travel mugs and that is because they are awesome, reliable and they get the job done!
I'm not the only one in our home that is enjoying a new travel mug, Alex, Zack and Libby each got one too and we couldn't be more please!
You can get a Contigo West Loop Travel Mug for $20.99 and it is available in a variety of colors. If you're going to order one, get it before October 31st and use discount code WESTLOOP20 and save 20% on your purchase!!!
Connect
You can connect with Contigo on Facebook and Twitter.
Win It
Thanks to our friends at Contigo, you can enter to win your own Contigo West Loop Travel Mug using the Rafflecopter form below.
Any mandatory entries must be completed in order to qualify to win. All entries will be validated before a winner is announced. Winner will be notified via email and will have 24 hours to respond or will forfeit prize and another winner will be chosen. Any questions, please contact us.
It's the announcement Frozen fans world wide have been waiting for…….there's a Frozen Sing-Along coming to DVD this November!!!!!
Let it go…Let it go…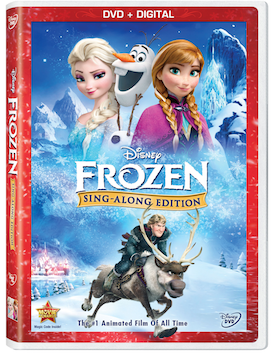 Experience Frozen, the hit musical comedy from Walt Disney Animation Studios, like never before in a new to DVD, full-length Sing-Along Edition! Follow the lyrics with a bouncing Frozen snowflake. Join Anna as she sets off on an epic journey – teaming up with rugged mountain man Kristoff and a snowman named Olaf – to find her sister Elsa, whose icy powers have trapped the kingdom of Arendelle in eternal winter. It's pure enchantment – and full of fun for the whole family!
OMG! My kids are going to go CRAZZZZZZZZZZZZZZZZZZZZZYYYYYYYYYYYYYYYYYYYYYYYYYYYYYYYY!!!!!!
Make sure you get yours before the holidays!

*This post is brought to you by our friends at Disney Junior. I received a promotional item in order to facilitate this review. All thoughts and opinions are my own. This post may contain affiliate links.*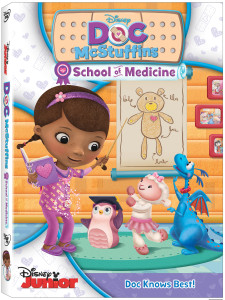 Doc McStuffins is a show that is fairly new in our home. Ellie has seen a few episodes here and there over the last year but I can tell you, since this DVD arrived, we've been to the school of medicine A LOT.
Doc McStuffins: School of Medicine, is a compilation of engaging Doc McStuffins stories, the many specialties in which doctors practice medicine and health care are highlighted for young kids to comprehend. In her playhouse clinic, Doc is an optometrist, helping her stuffed owl toy, Professor Hoostburgh, to see clearly again. As a dentist, she fixes a tooth on Donny's toy shark Mr. Chomp and, as a radiologist, Doc takes an inside look at Daisy's arm after a Roller Disco fall. Then, Doc accidentally sprains her own ankle, so it's up to her toys to provide the care and compassion to Doc herself and with rest, patience and plenty of cuddles, she will be as good as new, singing "The Doc is in."
This DVD includes 5 episodes (approx run time is 110 minutes):
~Chilly Gets Chilly / Through The Reading Glass (Optometry)
~Hallie's Happy Birthday / Shark-Style Toothache (Dentistry)
~Think Pink / You Foose, You Lose (Sports Medicine)
~Disco Dress Up Daisy / The Glider Brothers (Imaging/Radiology)
~Celestial Celeste / Run Doc, Run! (Imaging/Radiology)
Now that Ellie is slightly obsessed with Doc McStuffins and the idea of the Doctor, she tells me every day she needs to go to the Doctor Office for her check-up!
You can get your copy Doc Mcstuffins: School of Medicine on DVD for $12.96 on Amazon today!
*This post is brought to you by our friends at Sony Pictures Home Entertainment. I received a promotional item in order to facilitate this review. All thoughts and opinions are my own. This post may contain affiliate links.*
If you are like me, a child who grew up in the 80's and loved it than you will LOVE The Goldbergs, if you are crazy about them already!
In case you haven't heard of The Goldbergs or the chance to check out the show, now is your chance! Season 1 just hit stores and you can get yours today!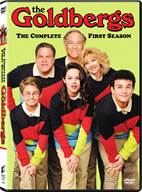 "The Goldbergs" is a coming-of-age comedy that brings viewers back to simpler times – when overbearing moms,
gruff dads and annoying siblings were par for the course. Documenting the ups and downs of growing up
in a multigenerational family in the '80s, this freshman-season comedy has earned big laughs, offering viewers a charming and intimate look at an average American family — just like yours, only slightly louder and more colorful.
There are sooooo many things I love about this show. I love seeing all of the great 80's styles, the music and the things families and kids loved to do.
If you are looking for a show that is guaranteed to make you laugh while basically reliving your childhood and pre-teen years, this is the show for you!
THE GOLDBERGS: THE COMPLETE FIRST SEASON contains all 23 episodes on three DVD discs, along with cast and crew commentary on five episodes, and five all-new, behind-the-scenes featurettes, including a look at creating the first season in "Blast from the Past: Making Season One." Additional featurettes include "Our House: The '80s Revisited," giving viewers an inside glimpse of the Goldberg home, as well as "On Set with Jeff Garlin," featuring Goldberg patriarch Murray (Garlin). Fans can also enjoy a rare glimpse into Patton Oswalt's process as narrator in "Patton Oswalt: Adam Grows Up." Lastly, "Costumes of the '80s: The Good, the Bad and the Ugly" takes fans on a tour of the wardrobe department where costume designer Keri Smith reveals details on dressing a show set in the '80s.
I am so thankful that Adam Goldberg for taking his family videos and turning them into this awesome show and giving me the chance to relive my childhood makes for some good laughs with my teeangers.
You can get your copy of The Goldbergs: The Complete First Season
for $19.99.
Don't waste any time……..Season 2 premieres September 24th!