*I participated in a campaign on behalf of SheSpeaks for Mr. Clean. I received a product sample to facilitate my review and a promotional item as a thank you for participating.*
It shouldn't come as a surprise to anyone who walks into our house that things are not always 100% clean.Seriously, if you have 5 kids and 3 of them are age 6 and under, if your house is clean all the time then something is wrong. Kids, they make messes. They leave toys all over the house, the spill things, track dirt through the house, drop crumbs and wipe bodily fluids wherever they can.
Yes, kids…they are messy and well, they are gross!
No joke, this is my living room earlier this week and this is just from 2 kids.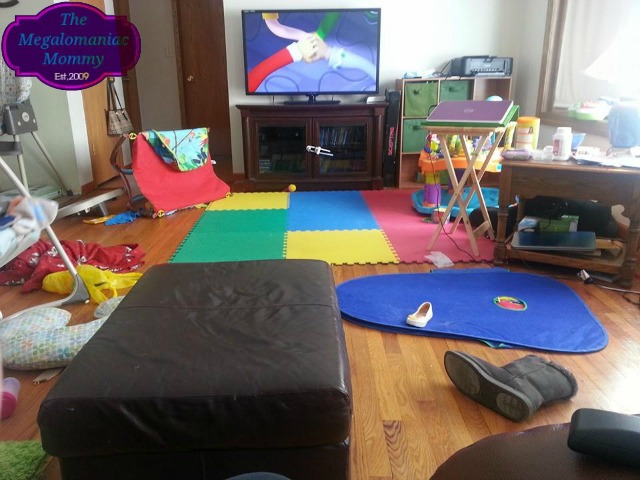 At least I know my kids are always having fun!
But, at the end of the day when the fun comes to an end and the kid's are all in bed, the cleaning fairy comes before mom calls it a night.
I absolutely hate going to bed when the house is messy so I do my best to ensure that it is all cleaned up before bed. There is also one night, every week, after the kids are in bed that things get scrubbed down.
Since Peanut is on the verge of crawling, like really close, I've been doing my best to keep the floors nice and clean and thanks to Mr. Clean and the new Mr. Clean Liquid Muscle, cleaning the floors and other surfaces in our home just got a whole lot easier!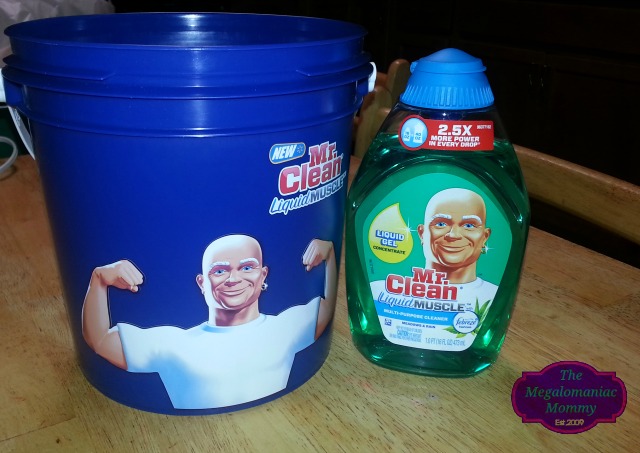 Mr. Clean Liquid Muscle is a a Liquid Gel Concentrate Multi-Purpose Cleaner with 2.5x more power in EVERY drop.
With little kids in the house, our kitchen floor always seems to have something sticky spilled on it and it is never fun to clean up. Mr. Clean Liquid Muscle makes mopping up the mess quick and effortless.
You can use Mr. Clean Liquid Muscle in a bucket and dillute it with water, which is what we do with our floors. Or you can squeeze it straight from the bottle onto a sponge which is great for tables, counters, in the bathroom and more! I love using it both ways and am happy with how easy it takes the grime away.
I have great plans this weekend to scrub down both bathrooms and the rest of the kitchen using our Mr. Clean Liquid Muscle and kissing the dirt that has built up goodbye!
Connect
You can connect with Mr. Clean on Facebook and Twitter.
Follow @RealMrClean
Follow the hashtag #MrCleanMorePower for tips and tricks to erasing dirt and grime in your home.

Where does dirt and grime live in your home and what do you do to prevent these messes??

*This post is made possible by the Moulin Roty. I received a promotional item in order to facilitate this review. All thoughts and opinions are my own. This post may contain affiliate links.*
Just over a year ago, my little Tatertot discovered the fun of shadow puppets. It was early in my pregnancy with Peanut and I wasn't feeling well so he took it upon himself (just shy of turning 5 years old) to take care of his ailing mommy. He made sure I had water and crackers, was all tucked into bed and then, he put on a show for me. A shadow puppet show with a great story he made up to go along with it.
Since that time, he has become a big fan of shadow puppets and quite the story teller. I'm happy to report that thanks to our friends at Moulin Roty and their Les Petittes Merveilles Nighttime Castle Shadow Puppets
and Magic Forest, he is having even more fun!
Bedtime stories may never be the same thanks to Moulin Roty, the 40-year-old French toy company, that is casting a light on its Les Petit Merveilles line of Nighttime Shadow Puppets. Instead of reading from a storybook, parents and children use these majestic puppet sets with themes of Castles, Paris, Circus and Dinosaurs to create magical tales for sweet dreams!
The Les Petit Merveilles line of Nighttime Shadow Puppets has made bedtime a lot more fun for our little ones and Tatertot has been having a blast sharing tales with his little sister, Bean. The Nighttime Castle Shadow Puppets are great for our little Prince & Princess to act out their favorite royal tales.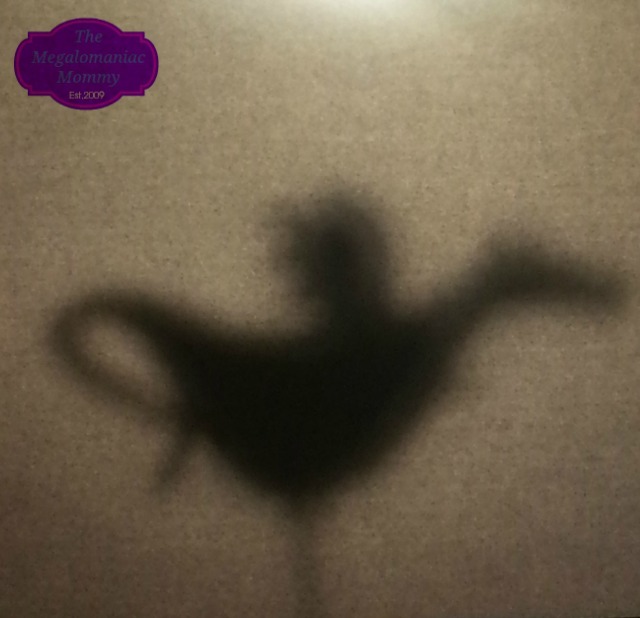 As Bean would say,"Oh no! It's a dragon!"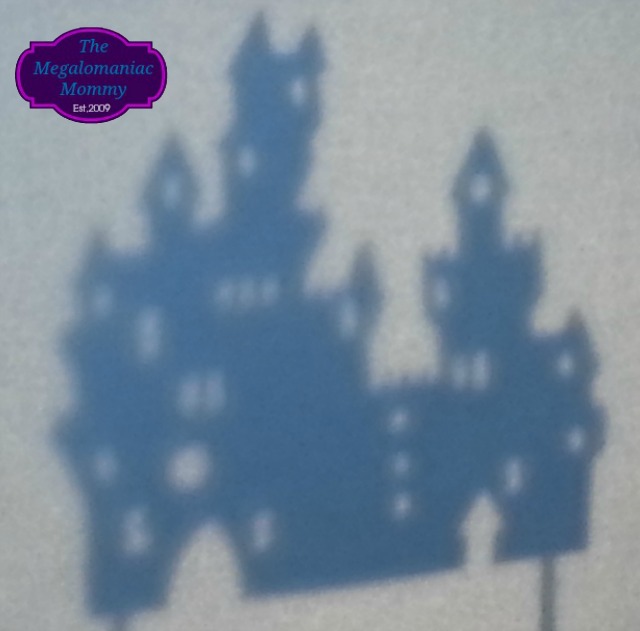 The Royal Palace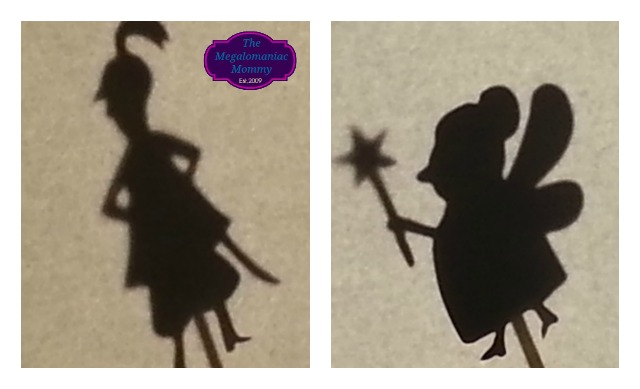 The royal tale wouldn't be complete without a Knight & a Fairy Godmother.
These shadow puppets are easy to use. Each comes mounted to a stick for easy handling. To cast the shadow, simply string up a white sheet or large sheet of white paper and stand behind it with a lamp and your puppets and begin your story.
Buy It
Les Petit Merveilles from Moulin Roty are also available in Dinosaur
, Circus
, and Paris
. In addition to the puppets, you can also grab a Shadows Theatre
. Prices range from $18.50 – $38.50
Connect
You can connect with Magic Forest and Moulin Roty on Facebook.
*This post is made possible by participating in a blog campaign by Global Influence on behalf of HERSHEY'S. I received a promotional item in order to facilitate this post. All thoughts and opinions are my own. This post may contain affiliate links.*
Can you believe it is already March?? I am trying to figure out where time is going because I seem to be losing a lot of it. Now that we have entered March, Easter will be here before we know it which means it is time for me to start getting things ready around this house of ours. With 5 kids, I don't get a lot of time to prepare for things so I tend to give myself a few extra weeks to get ready these days.
Thanks to our friends at HERSHEY'S, prepping for Easter has been a breeze this year! They were kind enough to provide us with a box full of goodies (8lbs of it!) to kick off the celebration.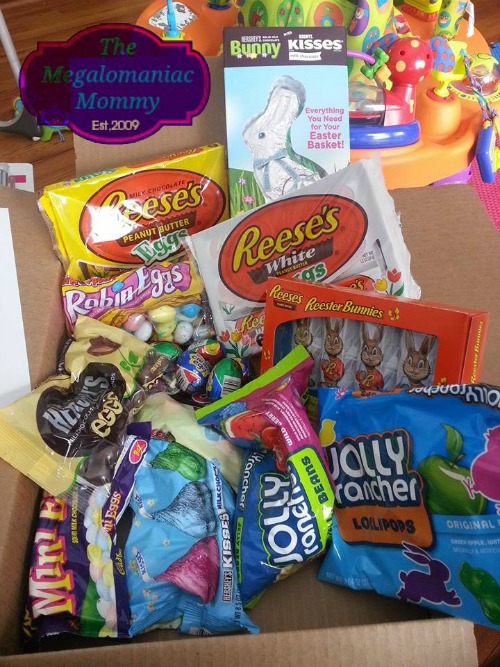 Now most people would think that all of this delicious candy would be for the Easter Bunny to fill up all those Easter baskets in this crazy house of ours. In this house, candy isn't just for eating….sometimes, it's for decorating!
To kick the season off, I decided I would create an Easter centerpiece for our kitchen table. Since we finally have a house of our own, I am all about decorating for the holidays and am ready to start new traditions and create some great memories with my family. This is the first Easter centerpiece I've ever created and I think it looks pretty great!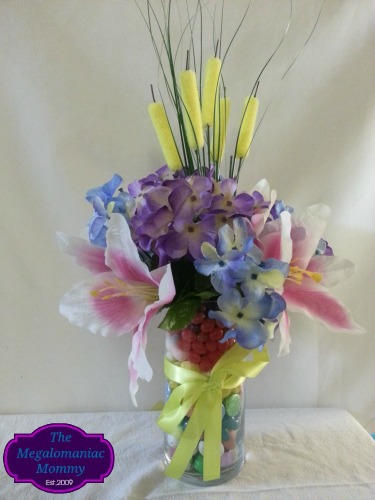 Now, if you look closer at the vase, it is filled with different candies in beautiful pastel Easter colors.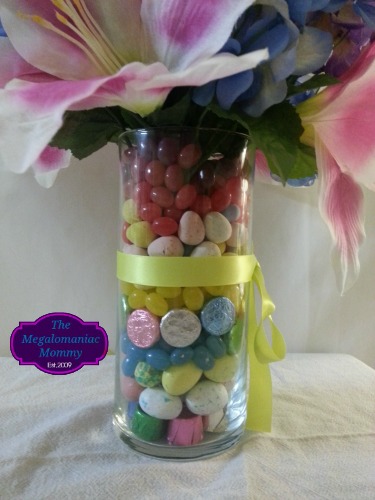 This was actually super easy to create and it was lots of fun! Since I already had all of the candy on hand, I grabbed the vase, ribbon and flowers from our local dollar store which made this craft affordable too! Who doesn't love an edible craft?