*This post is brought to you by our friends at First Things First and PartnersHub. I received a promotional item in order to facilitate this review. All thoughts and opinions are my own. This post may contain affiliate links.*
As a wife and mother, I try to invest time in my individual relationships with my kids and with my husband. Let's face it, nobody is the perfect parent or spouse…..we all have our not so proud moments.
Summer is all about family and spending quality time with the ones you love. And the more skills you develop the more time you invest in your family and your relationships. First Things First (FTF) is an award winning not-for-profit organization dedicated to strengthening families.
**FTF is a resource that collaborates with and is supported by a broad cross-section of community organizations, groups and individuals.
**FTF accomplishes it mission through meaningful media messaging and skill building classes.
**FTF has put together a series of videos to help encourage you to grow your relationships with the ones you love.
Alex and I have been together for 8 years now and married for almost 7 of them. One thing we never do is find time just for us, when we do, it is usually only for a few moments just for us to reconnect. I love this video from FTF about Dating Your Spouse.
I love all of the ideas the video offers and I think I'm going to try a few!
Win
Thanks to our friends at First Things First, you can enter to win this awesome prize pack (pictured below).
**Each household is only eligible to win One (1) First Things First Moon Pie Prize Pack via blog reviews and giveaways. Only one entrant per mailing address per giveaway. If you have won the same prize on another blog, you will not be eligible to win it again. Winner is subject to eligibility verification.**
Any mandatory entries must be completed in order to qualify to win. All entries will be validated before a winner is announced. Winner will be notified via email and will have 24 hours to respond or will forfeit prize and another winner will be chosen. Any questions, please contact us.
*This post is sponsored by Foodie.com. I received compensation in oder to facilitate this post. All thoughts and opinions are my own.*
It's no secret that we live in a house filled with chaos. Since something is always going on with one of the kids or the house or I have a lot of work to do, we like to keep our weeknight dinners easy. If it can't be thrown in the crock-pot to cook all day or takes more then 30 minutes to make, chances are pretty good it won't be served in our home unless it is the weekend and we have the extra time to prep it.
Here is a collection of recipes I put together of meals that are quick, easy and family friendly.
Check out Quick & Easy Dinners for the Family

by Anne Younger at Foodie.com
If you have a recipe that is quick and easy you think our family would enjoy, I would love for you to share a link to it in the comments below!
*This review and giveaway was made possible by Double Duty Divas and Febreze. I was compensated for my participation in this campaign, but all opinions are 100% mine.*
As you can imagine in a home filled with 2 adults, 5 kids and 1 dog, you tend to have a home that is also filled with a variety of smells. Over the years I have become noseblind to all of the different odors in our house and I rarely notice anything but then there are those moments that I can smell something is off when we walk in the door, or the smell of something we cooked is lingering for hours after the meal is over and of course there is always the smells that come with little kids in diapers.
Did you know that a majority of people are noseblind to the odors in their homes and cars?
What is noseblind?
noseblind [nohz-blihnd],
noun;
The gradual acclimation to the smells of one's home, car, or belongings, in which the affected does not notice them (even though their guests do).
We recently had some friends over for a movie night with the kids and we had to cover the smells of a few things throughout the evening. Thanks to our friends at Febreze, we were armed with just the right tools for the job!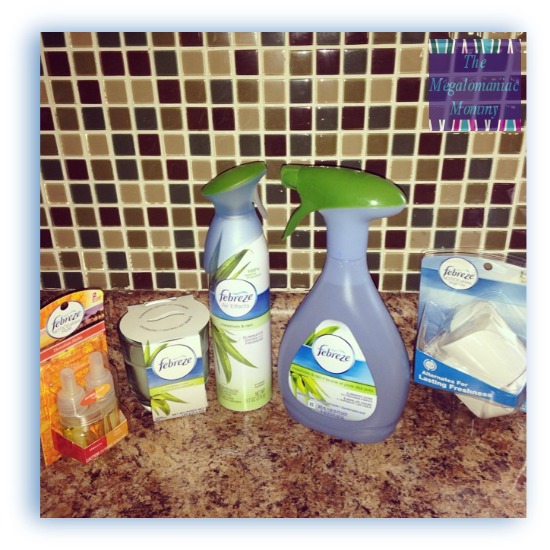 We've been covering those pesky bathroom smells with the Febreze Noticeables and Air Effects and they have done an amazing job of removing odors from the air in our home.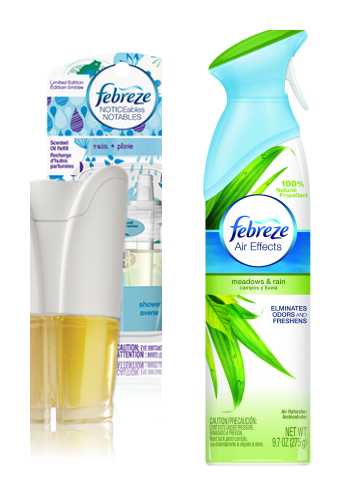 The Febreze commercials you see on tv don't lie…you could put on a blindfold and sit in the filthiest, smelliest place and if someone were to use some of these great products, the odors would be eliminated. Febreze contains a molecule known as Cyclodextrin that traps and eliminates the bad odors. Febreze's patented technology eliminates odors and leaves behind a pleasant scent.
Trust me, having these products on hand during our movie night saved us from a few embarassing moments and you can bet you will find them in our home and in use on a regular basis!
Connect
You can connect with Febreze on Facebook and Twitter.
Win It
Thanks to our friends at Febreze, you can enter for your chance to win a Febreze Prize Pack and $60 AMEX Gift Card.
Please enter using the Rafflecopter form below. (It make take a moment for the form to load so please, be patient.)
Any mandatory entries must be completed in order to qualify to win. All entries will be validated before a winner is announced. Winner will be notified via email and will have 24 hours to respond or will forfeit prize and another winner will be chosen. Any questions, please contact us.
*This post is brought to you by Barbara Volkema, Independent Scentsy Consultant. I received a promotional item in order to facilitate this review. All thoughts and opinions are my own. This post may contain affiliate links.*
With a house full of kids running around and constantly on the move, I think it is safe to say that our home is not the best place to have candles burning. You hear and read stories everyday on the news, in the papers and online about house fires caused by candles and I'd rather play it safe and keep candles out of our house.
I love to fill our house with different scents during different seasons and I also like to disguise any of the smells that come with having 5 kids and a dog.
Thanks to Barbara and her introducing our family to Scentsy we are filling our home with some amazing scents.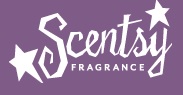 For those who are unfamiliar with Scentsy, here is a little info:
Scentsy Fragrance is a direct selling company and international leader in fragrance, offering a variety of home and personal fragrance products. The simplicity and value of its flagship product, scented, wickless candles heated in decorative ceramic warmers, provides a better alternative to burning wicked candles. Scentsy Fragrance also offers the Scentsy Buddy, plush animals with a fragrant Scent Pak inside, and Layers by Scentsy, a personalized fragrance experience comprised of 17 body and laundry care products. Scentsy Fragrance products are sold through a network of Independent Consultants running home-based businesses throughout North America, Europe, and Australia.
We've been using the Green Thumb Scentsy Warmer from the premium line in our home for about 3 weeks now and I absolutely LOVE it.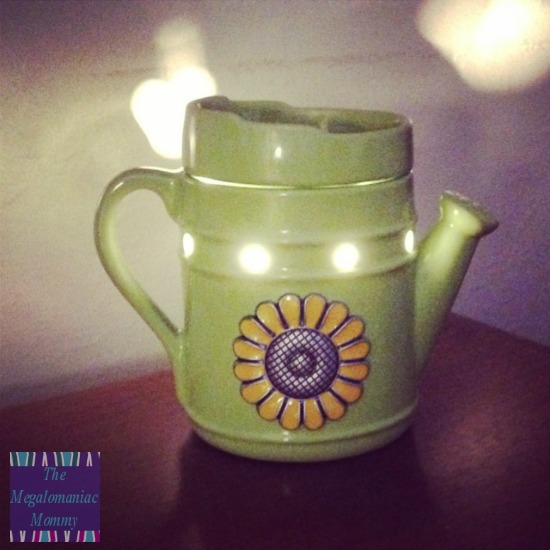 (Yes, I know the top is on backwards…..gotta love husbands!)
I love this warmer because it fits in with the decor in our living room perfectly since we have that country home thing going on. Since we got our warmer, we have been enjoying the Vanilla Bean Buttercream and By the Sea Scentsy bars.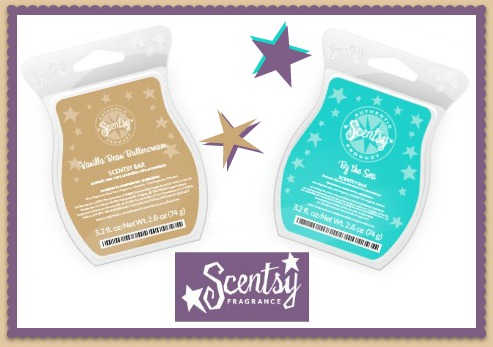 Most days I'm melting the Vanilla Bean Buttercream and it smells absolutely delicious….it's a good thing it's not edible because I'd be eating it…all.the.time.
When we used our warmer for the first time, I couldn't get over how great the smell was and I was worried that the scent would fade….but it didn't. I can't get over how long the smell lasts and how long you can melth the bars for. I'm so hooked I just took advantage of the Combine & Save program and just purchased 3 new bars. I can't wait for them to get here!
In addition to the Scentsy warmer and bars, I've also been enjoying the Layers by Scentsy hand cream. I have the Love Story scent and not only do I love the way it smells, I am also a big fan of how soft it makes my hands feel.
Prior to this review I thought Scentsy products were only warmers and wax but was excited to hear about all of their other great lines and other divisions and I hope to experience more of them as well!
Thank you to Barbara Volkema for introducing our family to Scentsy and making our house smell so stinking good!
Connect
You can learn more about Scentsy and their great products by visiting Barbara's website, Wickless in Green Bay where she posts about sales, discontiued items, and so much more! Also, be sure to find her on Facebook for regular updates too! Barbara also enjoys building personal relationships with Scentsy consumers so feel free to friend her on Facebook too!
Having a large family that includes three children ages 6 and under doesn't make it easy for us to get out of the house often as a family. Before our family was this size, one of the things we loved to do together was dine out. These days, dining out can get quite expensive, and let's face it, heading out to most restaurants with little kids in tow is not an enjoyable experience.
A few weeks ago, Alex and I decided it would be fun to get out and take the kids to one of our local McDonald's to enjoy a meal together while having some fun in the playplace. With all the rainy weather we have been experiencing lately, the younger kids desperately needed to burn off some pent up energy and burn it off, they did!
Alexander and Ellie ran through the tunnels, went down the slide, drove the car and had such a great time. It was really nice to hear them laugh and know that they were really enjoying themselves.
It was also great for Alexander and Ellie to be able to sit together, at their own little table while they enjoyed their Happy Meals. Those two are inseparable so this was perfect for the two of them and it was cute to watch.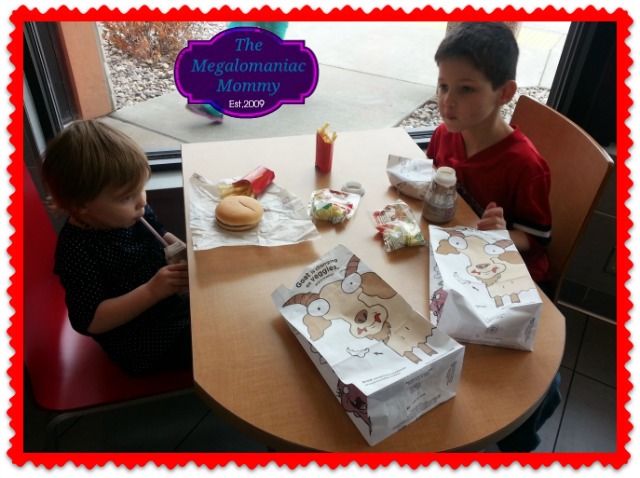 Not only was our trip to McDonald's nice because they kids got to play, but Alex and I were able to sit down, talk and enjoy a meal together. Up until recently, this is not something that happened a lot and it definitely wouldn't have happened if we had gone to your typical sit down restaurant with the whole family.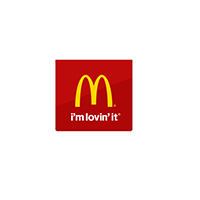 Zack and Libby were also able to enjoy some teenager time as they sat together at a table while still being awesome and playing with the little kids. Really, you have to love a kid who still likes to play with his little brother.
All in all, our trip to McDonald's and the time we spent in the playplace was great. The entire family had a great meal, we were each able to get something that catered to our own likes (Bacon Clubhouse Cheeseburger for this girl!), we got to spend time together and really just enjoy being a family.
Disclosure: Compensation was provided by McDonald's via Mode Media. The opinions expressed herein are those of the author and are not indicative of the opinions or positions of McDonald's.