Recently, Alex and I packed up the kids and headed down to Wisconsin Dells for a little mini-vacation, our destination, Wilderness Resort for some wet and wild water park fun!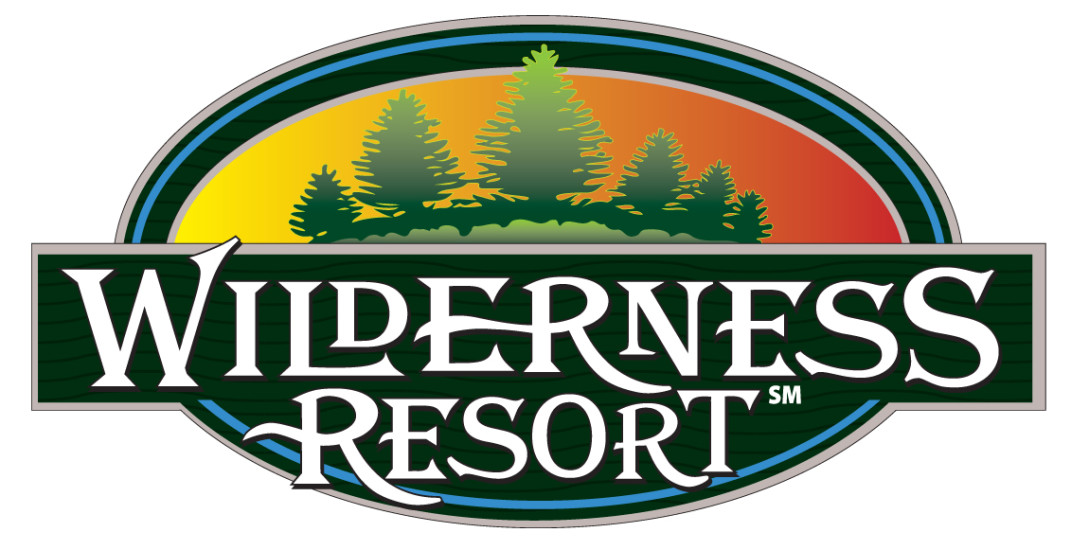 Not only was this our first trip to the Wilderness Resort, it was also our first trip as a family to Wisconsin Dells. I have been to the Dells before but it was over 20 years ago, for a day trip and I don't remember a thing about it. So of course, this trip was going to be a totally new experience for all of us.
Now, if you've never been to Wisconsin Dells, I will be honest with you, I was overwhelmed driving into town. There was just so much to look at and so many things we wanted to find the time and check out.
We arrived at Wilderness Resort just in time for check-in and pulled up to the New Frontier Lobby and I went inside to get us all checked in for the weekend. At check-in I was greeted by a nice young man named Tomás who educated me on everything I needed to know about the resort, which slides and water parks were his favorite and pretty much where I could find everything and anything we would need. He was AWESOME and it was great to be welcomed by someone who clearly enjoys his job!
Places to Stay
The Wilderness Resort has a variety of options when it comes to finding a place to stay. They have everything from your standard room to cabins, condos and villas in varying sizes.
Once we were checked in we made our way to a parking spot, unloaded the van and checked into our room. Our room was a Double Suite Wet Bar.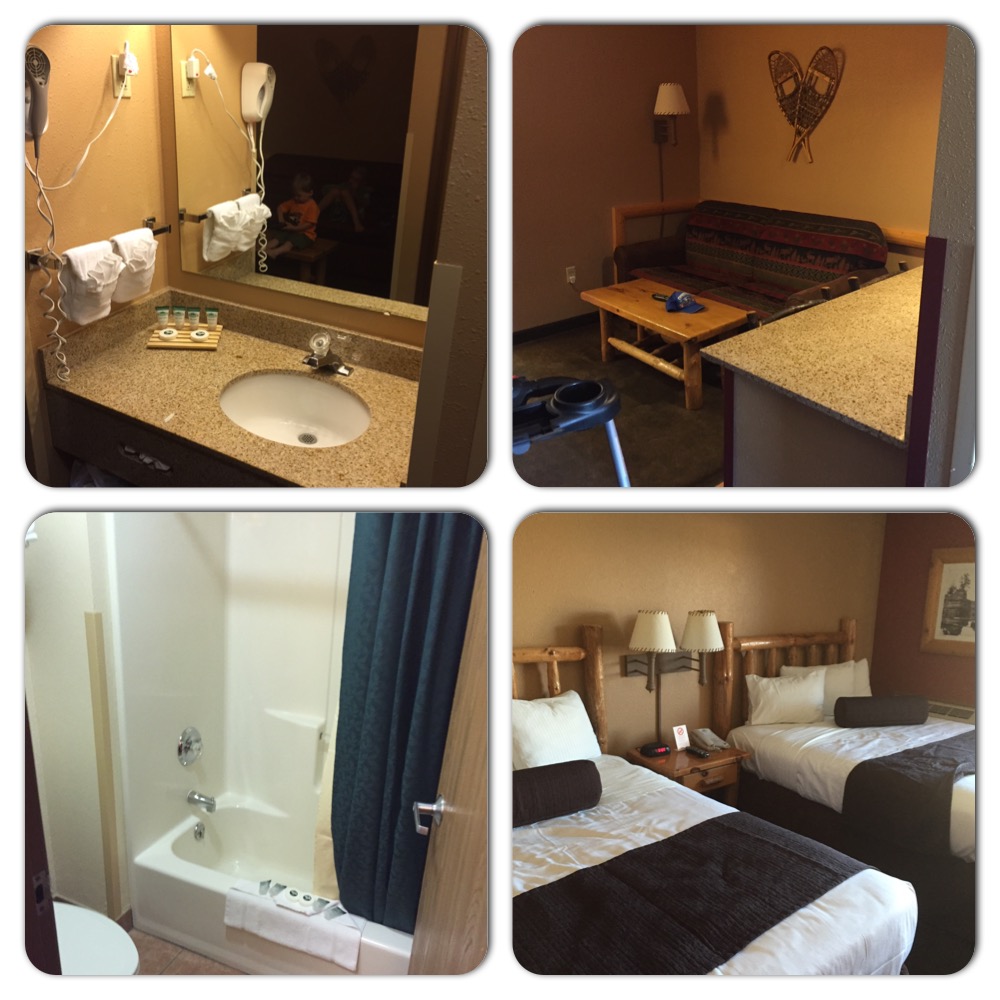 The room was a perfect fit for us and offered us 425 square feet of space with a max occupancy of 7 that included two queen-size beds and a sofa sleeper with a semi-privacy wall between, a wet bar, two TV's, microwave, mini-refrigerator, coffee maker, Wi-Fi and more. We also had an upper-level pool view so we could watch others enjoying the water park.
The wet bar was a great addition to the room for us because we used it as a place to prep meals (we brought a lot of basic food items with us), feed the kids and take care of the dirty dishes.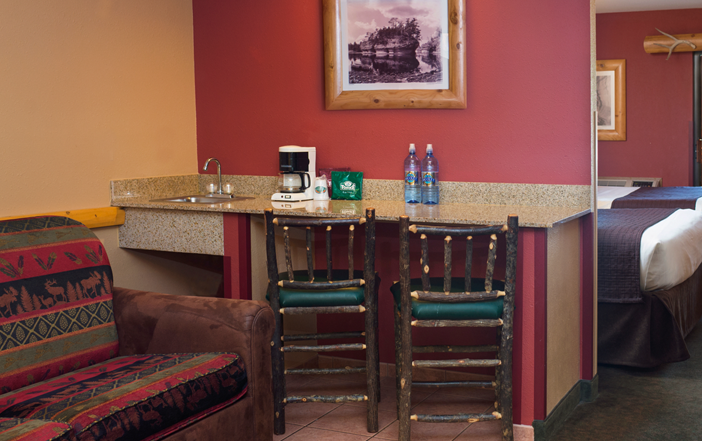 *Children ages 2 & under stay FREE and do not need to be included in the number of registered guests.
Dining at Wilderness Resort
If you plan on dining while you are at the resort, I suggest you check out the restaurants and what they have to offer before your trip, this way you have an idea of what to expect. Wilderness has a variety of restaurants both inside the resort as well as some that are detached from the resort but still on site including Italian, a steak house and a burger joint to name a few.
Prior to our trip, we had decided we would dine at the Wild Canyon Cafe, where kids eats free, on our first night and enjoy their Friday Night Fish Fry buffet style.

Dinner was delicious and I ate more cod then any one person should! The kids also enjoyed their meals but I think they enjoyed their desserts from the buffet and their chocolate milk even more. I was also very pleased with our service at Wild Canyon Cafe and we couldn't have asked for a better server! (Thanks Duane!)
In addition to the dining, there are also great places to grab a drink, like Survivors Bar & Grill or The Thirsty Buffalo Saloon.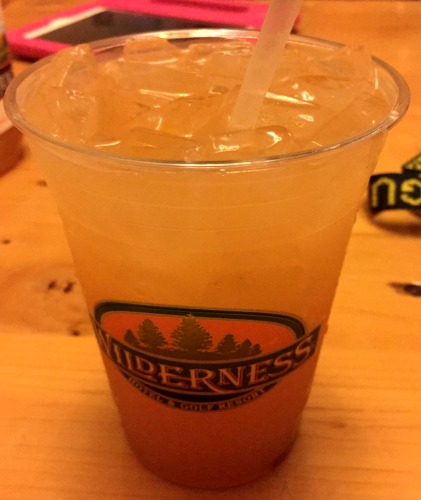 The Water Parks
Now lets face it, if you are staying at the Wilderness Resort, the chances are pretty good that the reason you are there is to enjoy their water parks.
With eight AMAZING indoor and outdoor water parks – all EXCLUSIVELY for the use of Wilderness guests, you can bet you will have a wet and wild time!
Since we were hanging with the little kids for the weekend, we didn't get to partake in the big water slide action but we had just as much fun hitting up the areas for the younger crowd.
Our first stop was the Wild WaterDome, a 70,000 square foot indoor water park overflowing with fun! The Wild WaterDome is home to the Great Wave (America's largest indoor wave pool!) the Dueling Mammoths family raft rides, and Mini Mammoths Cove play area!
The kids love slides, regardless of their size and it was a constant up the steps and down the slide night for them.
We also hit up the New Frontier Outdoor Water Park where Alexander took advantage of the big slides while Joey and Ellie hung out in the kiddie pool splashing and sliding.
Joey couldn't get enough of either of the slides in the kiddie area and I really think this was his favorite thing about the entire trip to the park!
The kids really had a lot of fun at the New Frontier Outdoor Water Park and I'm glad we went down to check it out. I also really liked this park because they had an inground pool so we could take the kids in and practice their swimming or just relax. (This is the park we could see from the balcony in our room).
In addition to these parks, there are 6 more and plenty for everyone, of all ages to enjoy. I wish we would have had more time to check out all of the water parks. I guess this just means we need to go back again!
More to Do!
If 8 water parks and a variety of restaurants isn't enough to keep you entertained then you will be happy to know that Wilderness Resort is also the home to a variety of attractions, including 4 different arcades, lazer tag, go-karts, zip-lining, sky ropes, a 4 story play park, mini golf and more! For those who are looking for some quiet time you can hit the golf course or the spa!
Take Home Some Souvenirs
Be sure to check out one of the many shops at Wilderness Resort and bring home a little something to remember your trip! With everything from stuffed animals, toys and clothing, you will definitely find the perfect item for you!
Connect
You can find out more about Wilderness Resort and everything they have to offer for vacations, weddings, events and more by visiting their website or by checking them out on Facebookor Twitter.
Thank you to Wilderness Resort for inviting our family to come down to Wisconsin Dells for a visit. Also, thank you to the staff who assisted us when Alex became ill and needed immediate medical attention. We appreciate everything you did for him and our family.
The following two tabs change content below.
Anne is a 30-something full-time SAHM mom of 5 ranging from 3 to 17 and grandma of 1 who resides in Ashwaubenon (Green Bay) Wisconsin. She started blogging in 2008 as a way to regain her sanity. She enjoys coffee, chocolate, cheeseburgers and vodka along with spending time with her husband and kids.
Latest posts by Anne Younger (see all)