Yesterday, Alex went in for his 2nd big snip. As you know, his first vasectomy, last June, was not successful and we found out in January we were expecting again. The doctor recommended doing the entire procedure again as he was still functioning normally 7 months after the first procedure.
So, yesterday afternoon we made the trip to the doctor's office, Alex all nice and calm thanks to the valium the doctor had prescribed. During his last vasectomy, I left the procedure room since I had Ellie along with us. This time however, I stayed for the entire thing! I had to make sure things were snipped, tied, double knotted and burned because I AM NOT about do this whole pregnancy/baby thing again—5 kids is more than enough for us!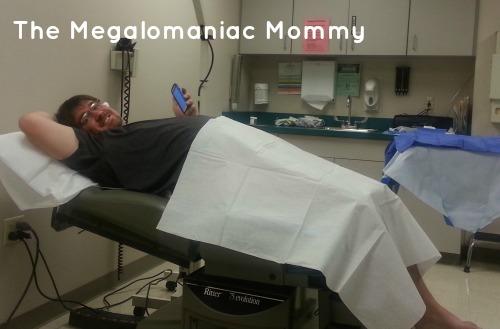 Yes, there he is, in all of his glory, waiting for the procedure to start. Between the amount of valium in his system and the entire bottle of lidocaine the doctor used to numb the procedure area, he did very well and I have to say, he complained less about the pain this time then he did the first time!
He was so calm and relaxed he laid there and played cribbage on his phone for a lot of the procedure!
I even rewarded him afterwards with ice cream, video games and the house to himself while I took the kids swimming at my parents house.
Alex has already been informed that he will have to have at least 2 negative samples after this procedure before I let him anywhere near me again.
Actually, I might make that 3!
The following two tabs change content below.
Anne is a 30-something full-time SAHM mom of 5 ranging from 3 to 17 and grandma of 1 who resides in Ashwaubenon (Green Bay) Wisconsin. She started blogging in 2008 as a way to regain her sanity. She enjoys coffee, chocolate, cheeseburgers and vodka along with spending time with her husband and kids.