The thing I love most about the holiday season is sending out Christmas cards to those who are near and dear to our family. Each year, I design a card covered in pictures of the kids and send them out. This year, I plan on doing the same. I do already have our Christmas photo cards in my hands and they are all stamped and sealed and waiting to go out in the mail. (Can you believe they've been ready since October!?)
However, this year, I want to do something else.
Something new.
Since I have so many new friends that exist in the blogosphere and Twitterverse, I want to send holiday cards to them too!
Right now, I'm looking at all of the awesome new holiday designs that Shutterfly offers and I'm mulling over a few of them.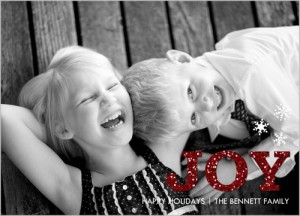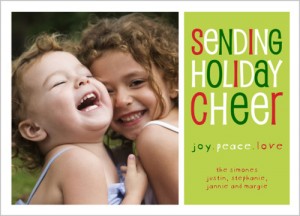 (Please note that those are NOT my children nor is that my family. These are images from Shutterfly.com)
See how cute all 3 of those designs are?
Now do you understand why I am finding it hard to make a decision?
Anyways, if you want to receive a holiday card from The Megalomaniac Family, I would LOVE to send you one!
The 1st 50 people to fill out my contact form leaving me their mailing information will receive one!
(I will update this post when all 50 spots have been filled.)
So….what are you waiting for?
Fill out the form so I can send you one of our ridiculously cute cards!!
And, if you're in the holiday spirit, pop over to Shutterfly and get your cards!
**Please put Holiday Card in the Subject line and your name and address in the message box.**
Disclaimer: I received 50 complimentary holiday cards from Shutterfly in exchange for my honest opinion. Shutterfly doesn't represent or warrant the accuracy of any statements or product claims made here, nor does it endorse any opinions expressed within this blogsite. The opinions stated from me are 100% mine and they are my true thoughts on this film. If you are a blogger who would like their own set of holiday cards, sign up with Shutterfly here.
The following two tabs change content below.
Anne is a 30-something full-time SAHM mom of 5 ranging from 3 to 17 and grandma of 1 who resides in Ashwaubenon (Green Bay) Wisconsin. She started blogging in 2008 as a way to regain her sanity. She enjoys coffee, chocolate, cheeseburgers and vodka along with spending time with her husband and kids.
Latest posts by Anne Younger (see all)