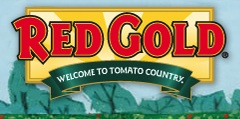 We like being experimental when it comes to meals in our house. For some reason, we have some picky eaters. It is because of this that I turn to a lot of casserole type dishes as a way to sometimes disguise what we are eating.
Let me tell you….it works.
I've had my kids eating vegetables and a variety of meats they usually wouldn't thanks to my casserole concoctions.
My latest creation, Taco Casserole, was inspired because 1 – I hate the mess that traditional tacos make and 2- Red Gold was kind enough to send us an AWESOME sampler pack of tomato products and it contained a can of Red Gold Petite Diced Tomatoes with Green Chilies.
For this concoction, we used the Red Gold Petite Diced Tomatoes with Green Chilies.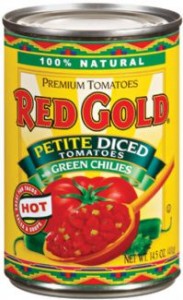 It was quick and easy to make and sooooooo good!!!!
Taco Casserole

*20oz Italian Season Jennie-O ground turkey- browned. (These days, ground turkey is a staple in our house and has replaced ground beef.)
*1 package of 12 whole wheat tortillas
*1 can sliced black olives
*1 cup chopped lettuce
*3 cups shredded Mexican flavored cheese
*1 can Red Gold Petite Diced Tomatoes with Green Chiles
*1/2 diced Green onion (optional)
*1/2 cup sour cream
*1 can vegetarian refried beans (optional)
*Cooking spray
Directions
1. Spray the bottom and sides of a 9×13 casserole dish with nonstick cooking spray.
2. Lay tortilla across the bottom and sides of pan (takes me 6).
3. Apply a thin layer of sour cream on top of the tortillas.
4.If you are using refried beans, apply a layer of beans on top of sour cream.
5. Sprinkle a portion of the ground turkey on top of beans.
6. Continue to layer with cheese, small portion of green onions, olives, lettuce and tomatoes.
7. After first layer is complete, place 3 tortillas across the top and layer again until out of meat. ( I get 3 layers each time).
8. Top with cheese and olives and bake at 350* for 15 minutes until cheese is melted and a golden brown color!
Cut and enjoy!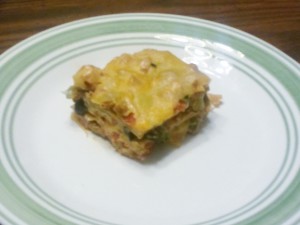 (Sorry for the picture quality, it was taken by the Alex with his cell phone!)
Disclaimer: I was provided with a sample product from Red Gold Tomatoes. Red Gold Tomatoes does not represent or warrant the accuracy of any statements or product claims made here, nor does it endorse any opinions expressed within this blogsite. The opinions stated from me are 100% mine and they are my true thoughts.

The following two tabs change content below.
Anne is a 30-something full-time SAHM mom of 5 ranging from 3 to 17 and grandma of 1 who resides in Ashwaubenon (Green Bay) Wisconsin. She started blogging in 2008 as a way to regain her sanity. She enjoys coffee, chocolate, cheeseburgers and vodka along with spending time with her husband and kids.