Fall is in the air, the older kids are back in school all day and Ellie, Joey, and I are back to spending our days together playing and having fun at home.
Since we can't play outside all day every day, we find different things to keep us busy inside the house. Thanks to our friends at Little Tikes, Ellie and Joey have been enjoying a new toy that has kept their imaginations running wild since it appeared in our living room on the first day of school.
Meet the Ultimate Cook Kitchen from Little Tikes!
Of course, the kids were thrilled and pretty much haven't stopped playing with it since! Ellie loves to cook all day long and she's constantly coming up with new stories in her head as to what she is doing and who she is cooking for.
The Little Tikes Ultimate Kitchen has become a permanent fixture in our living room (I even rearranged the room to find the perfect spot for it) until our basement project is done. Until then, the kids will just continue to enjoy it and expand their imagination.
The Little Tikes Ultimate Cook Kitchen comes with some great supplies to help get the kids started.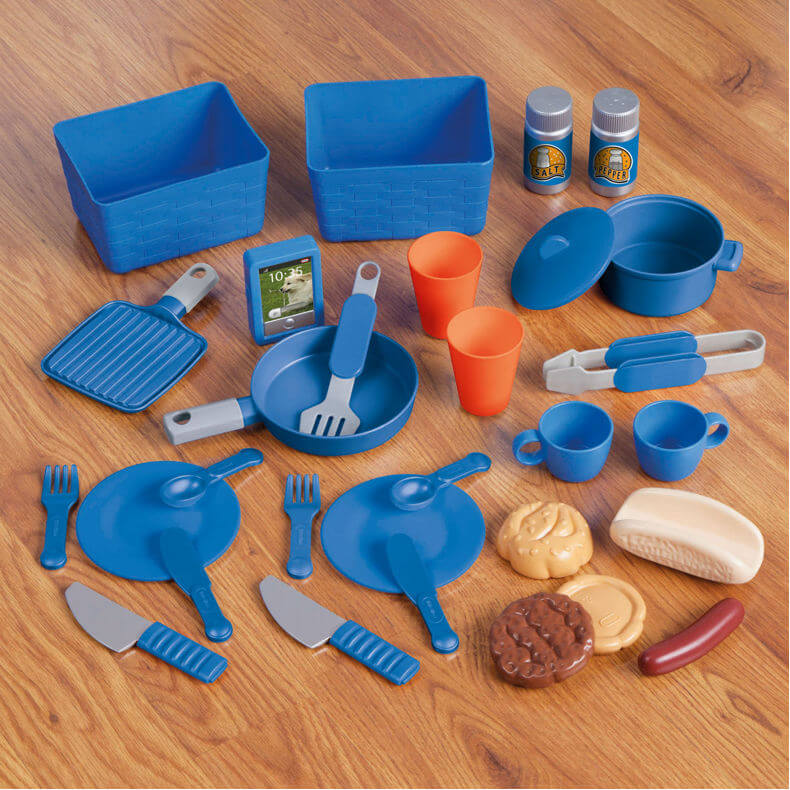 Given the fact that I LOVE coffee almost as much as my kids, both Ellie and Joey think it is super cool that this playset features a "cappuccino" maker, so they are making me coffee all day long.
As I have mentioned before, we love Little Tikes toys because they encourage our kids to pretend, be creative and be active and although this might be a kitchen playset, it manages to keep my kids super active and constantly on the go. They are always running back and forth cooking and serving meals to anyone and everyone that they can.
The kids also thought it was pretty cool that when you are cooking and you place the pot or skillet on the burner for the stove it actually makes noise! Joey just can't get enough of it.
Ellie, being the chatterbox that she is, loves having an "iPhone" in her new kitchen and she's constantly on it, even when she is slaving away over the hot stove.
Thank you, Little Tikes, for once again inspiring my children to use their imagination and encouraging them to have fun with another great product!
Get Your Own
You can get your own Little Tikes Ultimate Cook Kitchen for just $129.99
Connect
You can connect with Little Tikes
on Facebook, Twitter and Instagram.
The following two tabs change content below.
Anne is a 30-something full-time SAHM mom of 5 ranging from 3 to 17 and grandma of 1 who resides in Ashwaubenon (Green Bay) Wisconsin. She started blogging in 2008 as a way to regain her sanity. She enjoys coffee, chocolate, cheeseburgers and vodka along with spending time with her husband and kids.