**This is a guest post**
---
A California based company known for creating reusable anti-bottles was started in 2009. This particular recyclable water bottle was designed to be freezable and dishwasher –safe, able to stand when full and folded when empty thus easy to be carried around. This same company also created a refill station in 2011.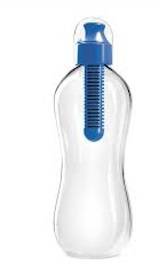 Since Vapur.us has been making roll-up water reusable water bottles for a while, they have recently come up with a way to fill up the bottle with water, screw in a filter and ready to drink, based on sources from the March Back Packer Magazine. The recyclable bottle that contains the filter is known to remove bacteria, flows freely allowing instant and easy drinking. The screw-on cap and flip-top that the company has also added makes refills easy and splash-proof drinking. SuperCap, is a brand that features a patented flexible design that is easier to handle than rigid bottles. A company named Drops of Hope was recently created, the main purpose was to make disposable bottles obsolete and have clean water more accessible. These recyclable bottles are fold-able, can stand when full, can be folded and flattened when empty. These bottles can be easily tucked away and can be conveniently fitted in pockets, purses etc. When the question about how to keep them clean arises, the answer to that is the bottle is dishwasher safe and can be easily air dried by being placed upside down on a drying rack or flat surface and of course can be manually washed. The fact that the bottle is freezable makes the availability of an icy-cold beverage enjoyable. The bottle also comes with a carabiner which makes it easy to clip on a belt-loop, back pack or even a purse. All in all Vapur put together with the product under water refill station have become very popular.
In 2011 The Refill Station Program was formed. The program is bringing refill stations across the country, anywhere from university campuses, as well as various travel venues. With billions of bottles of water consumed yearly world wide, majority of disposable bottles end up as waste in land fills and this is where the idea of environmental safety comes in. Dehydration as a health issue is on the rise therefore one of the solutions is to have easy availability to the refill stations. Visit the website to obtain answers to questions and one can check them out here as well, mostly the reusable water bottle that has been in demand.
Set out to make water more sustainable and portable the company's committed goals were met. The company did also receive various awards. Today, refill stations are in demand and are on the rise. By watching a demonstration of the brand and the resulting advantages of the reusable water product one can check them out or visit the youtube website.
The following two tabs change content below.
Anne is a 30-something full-time SAHM mom of 5 ranging from 3 to 17 and grandma of 1 who resides in Ashwaubenon (Green Bay) Wisconsin. She started blogging in 2008 as a way to regain her sanity. She enjoys coffee, chocolate, cheeseburgers and vodka along with spending time with her husband and kids.