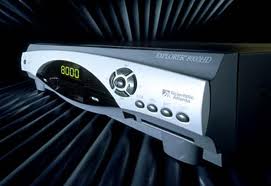 As you know,we have been trying to find ways to cut costs now that we are making room for another baby. In order to make room, we will be remodeling the basement and adding a 5th bedroom, a bathroom and rec room/office. As I'm sure you are aware, remodels are not cheap and we've sunk what would have been a large amount of money in our savings into this remodel which means we have to cut costs somewhere else.
One of the changes we have made is we got rid of cable. Yes, we do watch TV but 97% of the time we are watching something that we recorded days, sometimes weeks earlier. We've also been paying for a Netflix and Hulu Plus subscription for well over a year that we use more than our cable.
Needless to say, this decision was an easy one for us. Although we still have to pay for internet, we are still saving over $100 a month which for us, is a HUGE savings.
Instead of paying at least $185 for cable, 1 DVR, a home phone that we NEVER use and Internet, $8.43 for Netflix, and $7.99 for HuluPlus which adds up to $201.43 a month, sometimesa little more if someone bought a movie off of tv and taxes. We are now paying $50 for Internet (plus taxes), $8.43 for Netflix and $7.99 for HuluPlus which equals $66.42. There is also the added bonus that we also get to take advantage of all of the great movies and tv shows availalbe on Amazon as well since we pay $79 for Amazon Prime each year!
So here we are streaming our favorite shows through our XBOX360 and rocking an awesome flat TV antenna to pick up all the local stations as well. Thankfully everyone has adjusted quite well to the change and I love the extra money!
The following two tabs change content below.
Anne is a 30-something full-time SAHM mom of 5 ranging from 3 to 17 and grandma of 1 who resides in Ashwaubenon (Green Bay) Wisconsin. She started blogging in 2008 as a way to regain her sanity. She enjoys coffee, chocolate, cheeseburgers and vodka along with spending time with her husband and kids.
Latest posts by Anne Younger (see all)