Back when I was pregnant with Joey and the doctors were concerned that there might be something wrong with his brain, I always joked that the only thing that would be wrong with it is that it would be too big because he would be born super smart. Little did I know back in 2013, that I would be correct.
Joey, who is now on the verge of turning 3, is definitely advanced for his age. He can count, knows the alphabet, can recognize all the numbers, most letters, uses words that most of our older children don't, retains everything he sees, hears or does, and so much more.
Since we discovered that he has a love for learning and for technology, we have done our best to supply him with toys to feed that craving. He has tablets, ereaders, handheld game devices, books, puzzles, blocks and more. One of Joey's new favorite toys is his caterpillar, as he calls it, which is the Think & Learn Code-a-pillar from Fisher-Price, available at Best Buy.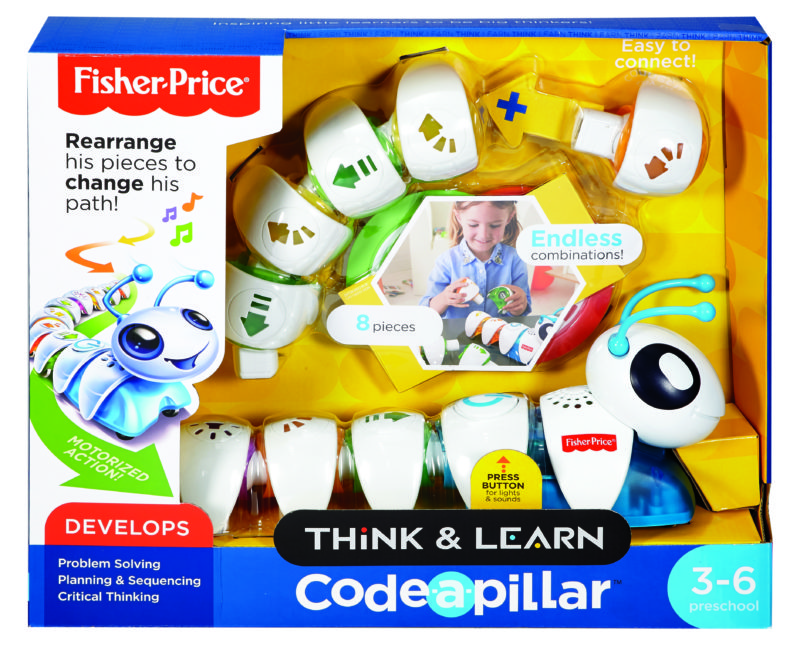 Coding is Fun
The Fisher-Price Think & Learn Code-a-pillar makes coding fun for preschool kids ages 3 to 6.
Joey loves to take his code-a-pillar apart, redesign it and set it in motion and then follow it around.
Originally, I was worried that Joey wouldn't be able to connect the pieces or figure out just quite how to work things, but I should have known better.
I love watching Joey play with it and figure out all the different ways to make it work. He is my little problem solver and I swear I can see the gears turning in his head.
Learning Through Play
The Fisher-Price Think & Learn Code-a-pillar is a great way for kids to learn about technology and coding.
What Does the Code-a-pillar Do?
Encourages experimentation while developing important skills
Including skills like sequencing, critical thinking, reasoning, discovery, memory, problem solving and experimentation.
Learning fun in endless directions
Kids can configure the segments to reach targets they set up throughout the room. Toy includes 1 sound segment, 3 straights, 2 right turns and 2 left turns. 2 destination targets and 1 motorized head.
Motorized head and segments features lights
Fun character sounds and blinking eyes to bring toy to life. Each segment lights up as the action happens.
On top of all of that, it makes learning oodles of fun and keeps kids busy!
Get It At Best Buy
You can find the Fisher-Price Think & Learn Code-a-pillar at Best Buy soon for $49.99!
The following two tabs change content below.
Anne is a 30-something full-time SAHM mom of 5 ranging from 3 to 17 and grandma of 1 who resides in Ashwaubenon (Green Bay) Wisconsin. She started blogging in 2008 as a way to regain her sanity. She enjoys coffee, chocolate, cheeseburgers and vodka along with spending time with her husband and kids.