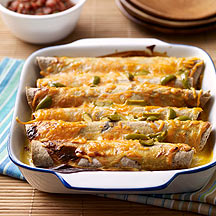 Cheesy Chicken Enchiladas
2013-04-03 15:49:25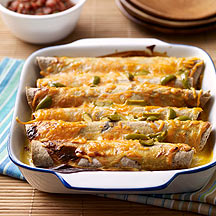 Ingredients
1 spray(s) cooking spray
8 oz Kraft Velveeta Light Reduced-Fat Pasteurized Processed Cheese Product
1/2 cup(s) fat-free sour cream
1/4 cup(s) fat-free evaporated milk
1/4 cup(s) scallion(s), green part only, minced
1/4 tsp crushed red pepper flakes
3 cup(s) cooked chicken breast, chopped*
6 medium whole wheat tortilla(s), 7-inches each
1/4 cup(s) low-fat shredded cheddar cheese, sharp variety
6 medium olive(s), green, pitted, sliced
1/4 cup(s) salsa
Instructions
Preheat oven to 350ºF. Coat a 9-inch glass baking dish with cooking spray.
In a microwave-safe bowl, combine cheese product and sour cream; cover and microwave on high power until cheese melts, about 1 1/2 to 2 minutes. Remove half of melted cheese to a small bowl and stir in evaporated milk; set aside. Add scallions, red pepper flakes and chicken to remaining cheese mixture; stir to coat.
Spoon about 2/3 cup of chicken mixture down center of each tortilla; fold in sides of tortilla to cover filling and place tortillas in a single layer in prepared dish; spoon remaining cheese sauce over top and then sprinkle with shredded cheddar cheese and olives.
Bake until cheese topping is bubbly, about 20 to 25 minutes. Serve with salsa. Yields 1 enchilada per serving. 6 points per serving.
Notes
*Use leftover cooked chicken or two (6-ounce) packages of cooked chicken breast strips in this recipe.
The Megalomaniac Mommy http://themegalomaniacmommy.com/
The following two tabs change content below.
Anne is a 30-something full-time SAHM mom of 5 ranging from 3 to 17 and grandma of 1 who resides in Ashwaubenon (Green Bay) Wisconsin. She started blogging in 2008 as a way to regain her sanity. She enjoys coffee, chocolate, cheeseburgers and vodka along with spending time with her husband and kids.
Latest posts by Anne Younger (see all)