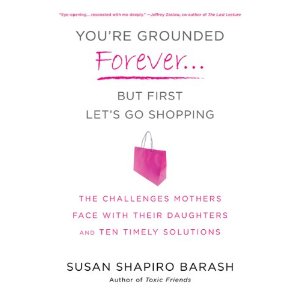 I just finished reading You're Grounded Forever…But First Let's Go Shopping by Susan Shapiro Barash. This book is all about the challenges mothers face with their daughters and offers ten timely solutions.
As a mom of two boys and one girl, I came to the conclusion long ago that parenting a girl is NOT an easy task for me. I believe I was truly meant to be a mom to a brood of boys who fight, get dirty, and participate in sports like Football, Baseball and Rugby.
With my boys, I never second guess any decisions I make when parenting them. With my daughter however, I am always second guessing myself. I wonder if at times I am easier on her then I am with the boys.
I found this book very interesting and it helped me see a new side of things when it comes to my relationship with my daughter.
The book covers topics such as:
Defending our Daughters
Lacking Limits
Encouraging a Material Life
Being Critical of your Daughter's Appearance
Making too Much of Food and Dieting
Romantic Lives
Fostering Independence
The book includes personal stories from women of all walks of life and illuminates the complicated world of mothers and daughters.
You can learn more about the book, the author and her family by visiting her website HERE.
This book is also available for purchase on Amazon, Barnes and Noble, Borders, IndieBound, and BookAMillion.
Disclaimer: I received a copy of this book at no cost to me in exchange for my honest review.
The following two tabs change content below.
Anne is a 30-something full-time SAHM mom of 5 ranging from 3 to 17 and grandma of 1 who resides in Ashwaubenon (Green Bay) Wisconsin. She started blogging in 2008 as a way to regain her sanity. She enjoys coffee, chocolate, cheeseburgers and vodka along with spending time with her husband and kids.
Latest posts by Anne Younger (see all)