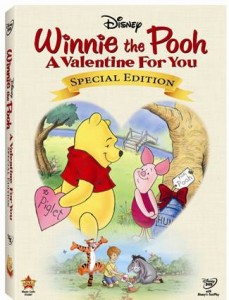 Tomorrow, January 5th, 2010 Walt Disney Studios Home Entertainment will release WINNIE THE POOH: A VALENTINE FOR YOU Special Edition on DVD! I was lucky enough to receive a copy of this video early and had a chance to review it.
Overall, I thought this movie was SUPER cute!
The Special Edition DVD features three Winnie the Pooh stories including a new-to-DVD adventure
("My Hero) a fun bonus feature ("Catch the Love Bug" game) the game was a TON of fun to play, Pooh-themed Valentines cards (which my kids ADORED!)
each DVD plus all features from the original.
In Un-Valentines Day, it's that warm and wonderful time when Pooh and his pals like to show how
much they care. But Rabbit wants to cancel Valentine's Day because last year, he was up to his ears
in the flood of cards that littered the Hundred Acre Wood. Reluctantly, everyone agrees — until
someone anonymously sends Pooh a pot of honey. Suddenly, the Valentine rush is again out of
control, much to the delight of all — including Rabbit. In A Valentine for You, Pooh, Piglet, Tigger,
and Rabbit see Christopher Robin making a valentine for a girl and find he's been bitten by a
"Smitten" and is lovesick. Worried that he'll no longer have time for them, and hoping a second bite
from the love bug will cure him, they set out on a wild adventure to capture the Smitten. My Hero is a
new-to-DVD adventure that shows the lesson of two friends truly helping each other. When Piglet
saves Tigger's life, Tigger decides to repay the favor by being Piglet's servant. But Tigger's new job
causes Piglet more harm than good. When Tigger saves Piglet's life, his obligation to be the servant
is erased and all is back to normal.
All in all, this collection offers a lot of family fun and teaches kids some great values.
Disclosure of material connection:
The following two tabs change content below.
Anne is a 30-something full-time SAHM mom of 5 ranging from 3 to 17 and grandma of 1 who resides in Ashwaubenon (Green Bay) Wisconsin. She started blogging in 2008 as a way to regain her sanity. She enjoys coffee, chocolate, cheeseburgers and vodka along with spending time with her husband and kids.