TaterTot, the current baby of the family, was born March 10th, 2008 and is 5 years old. Tatertot, although we hate to admit it, pretty much rules the house, and he is a HUGE mommy's boy!
TaterTot is a VERY active little man who eats, sleeps and breathes Power Rangers!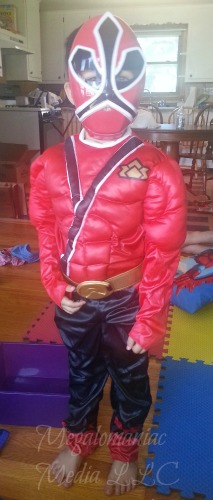 He loves Power Rangers both new and old and can tell you their entire history!
He is also crazy about his baby sister Bean.


Tatertot is still adjusting to the news that he is getting a baby brother as he was really hoping for another little princess. He does have plans to teach his little brother everything there is to know about Power Rangers!
Anne
Anne Younger is a full-time wife and stay at home mom of 4.....soon to be 5! After spending most of her 20's as a single mom, she met a wonderful man, fell in love, got pregnant, got married and welcomed 2 more children in her life and is currently expecting another! Anne started The Megalomaniac Mommy blog in April 2009 as a way to reach out and connect with other moms and it has become a passion of hers! Anne has been a brand ambassador for many great brands including Crayola, Verizon, Disney and many, many more.