The Drama Queen is our 11 year old middle child born July 22nd, 2000, and is currently in the 7th grade. She is OVERLY dramatic, hence the name and definitely keeps us all entertained.
The Drama Queen has a love for the arts and crafts, soccer, and science.
She is definitely not your average 12 year old girl.
Someday's she is girly but most days she doesn't have a care in the world.
She likes to drive everyone in the house insane but we all love her just the same.
The Drama Queen also enjoys reading, creative writing, animals, and loves her Granny more than life itself!
Her hobbies include crafting with duct tape and driving her older brother crazy. She has also developed a love of mismatched socks and funky print jeans.
She was also lucky enough to attend the Crayola Pop Art Pixies Premiere Party in New York City in November 2010 with her mom by her side!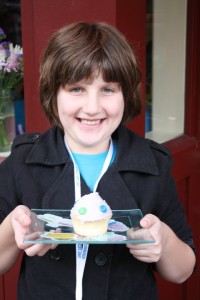 Anne
Anne Younger is a full-time wife and stay at home mom of 4.....soon to be 5! After spending most of her 20's as a single mom, she met a wonderful man, fell in love, got pregnant, got married and welcomed 2 more children in her life and is currently expecting another! Anne started The Megalomaniac Mommy blog in April 2009 as a way to reach out and connect with other moms and it has become a passion of hers! Anne has been a brand ambassador for many great brands including Crayola, Verizon, Disney and many, many more.