Bean, is the newest addition to our family. She is expected to make her arrival this winter. Right now, what we do know about her is that she is extremely stubborn, just like her mommy and her daddy!

Bean is what we like to call our miracle baby. Early in the pregnancy, mommy experienced some heavy bleeding and made a trip to the ER via ambulance and was told she was miscarrying, only to discover the next day that Bean was just fine and dandy in her happy little home! You can read all about it HERE.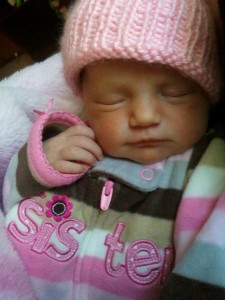 Baby Bean joined the family 2 days after mommy's birthday and just in time to join us for Christmas. She was born on December 17th, 2011 at 1:48am at 36 weeks gestation weighing in at 6# 2 oz and 18.5 inches long.
Since she was born, Bean has been a pleasure and a joy each and every day. She is the happiest child I have ever known and she always knows how to make others smiles. She is very intelligent and is doing things far beyond her age. She has discovered her love for electronics, Little People, Elmo & Abby Cadabby and her siblings.
Anne
Anne Younger is a full-time wife and stay at home mom of 4.....soon to be 5! After spending most of her 20's as a single mom, she met a wonderful man, fell in love, got pregnant, got married and welcomed 2 more children in her life and is currently expecting another! Anne started The Megalomaniac Mommy blog in April 2009 as a way to reach out and connect with other moms and it has become a passion of hers! Anne has been a brand ambassador for many great brands including Crayola, Verizon, Disney and many, many more.