To me it's Friday….it may have just become Friday 38 minutes ago, but I've decided that it's never to early to start the weekend! So…..here it is…..the long waited for weekend question….drum-roll please………………….
If you were a candy bar, what candy bar would you be and why?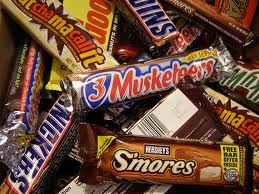 The reason for this particular question—-I want chocolate right now!
If I were a candy bar, I would want to be a Take 5…..it has the sweet & salty,chocolate, peanut butter, caramel, the crunch and did I mention the chocolate??? To me it has all the requirements!


The following two tabs change content below.
Anne is a 30-something full-time SAHM mom of 5 ranging from 3 to 17 and grandma of 1 who resides in Ashwaubenon (Green Bay) Wisconsin. She started blogging in 2008 as a way to regain her sanity. She enjoys coffee, chocolate, cheeseburgers and vodka along with spending time with her husband and kids.
Latest posts by Anne Younger (see all)