One thing I know after having 5 kids is the amount of baby wipes they require. Around here, baby wipes aren't just for wiping little bottoms, we use them for cleaning up hands, faces, spills, and other messes. Honestly, I'm sure that after Joey is potty trained, I will continue to purchase baby wipes because I like to have them on hand everywhere, even my van!
As Joey gets older, I have come to realize that his skin is just as sensitive as his mommy's so we have to be a little more careful with what we use on it. For example, when Joey gets a diaper rash, I have to rinse out our baby wipes with water first before touching them to his bottom or it hurts.
Thankfully, we recently discovered WaterWipes at our local Copps grocery store and now, we don't have to worry about his sensitive skin hurting anymore.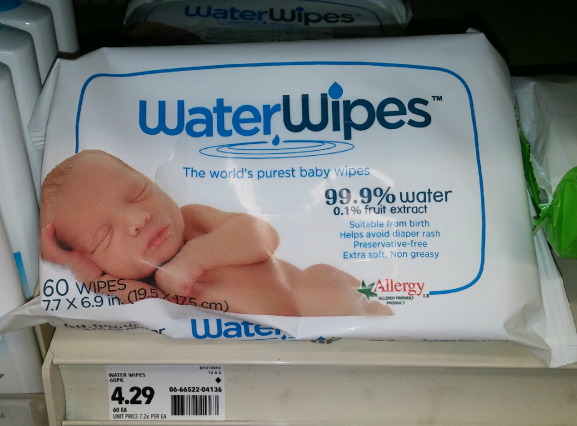 Why WaterWipes?
What makes WaterWipes so great for Joey and his sensitive skin is that they are chemical free!
WaterWipes are made up of 99.9% water and 0.1% fruit extract which makes them preservative free* and keeps them extra soft and not greasy.
Another great feature of WaterWipes is that they are not interfolded which allows for the sterile environment within the package to remain undisturbed.
Since discovering WaterWipes, we have been using them at mealtime to clean Joey up as well as letting him clean up himself.
Another thing I love about WaterWipes is that I don't have to worry about Joey putting the wipes in his mouth, which he has been known to do, because there aren't any harmful chemicals in them.
Having now discovered WaterWipes, I wish they would have been available back when Zack was a kid because they would have been great for his Eczema. These would have also been great for those times when Libby had the worst diaper rash ever.
Now that we know about WaterWipes, they will be great to give as baby gifts too!
Get WaterWipes
You can find WaterWipes at select Mariano's, Pick 'n Save, and Copps stores in the baby aisle. Check out the WaterWipes store locator to find a store near you!
Connect
You can connect with WaterWipes on Facebook, Twitter, Pinterest, and Instagram for more information.
(*Once you have opened a package of WaterWipes, it is recommended that you use them within 1 month).
The following two tabs change content below.
Anne is a 30-something full-time SAHM mom of 5 ranging from 3 to 17 and grandma of 1 who resides in Ashwaubenon (Green Bay) Wisconsin. She started blogging in 2008 as a way to regain her sanity. She enjoys coffee, chocolate, cheeseburgers and vodka along with spending time with her husband and kids.