As we prepare for the upcoming holiday season, we have been doing whatever we can to save some extra money now that we've added a 5th child to the mix. Saving money in this house means we've been cutting costs and trying to reduce our monthly bills. Earlier this year we ditched cable and were able to save over $100 a month. When we learned we were expecting baby #5, we purchased a lot our baby items used for less than half the cost of new!
Now that we have 4 people on our monthly family mobile plan we are paying over $220 a month for unlimited talk, text and internet, it's actually the one bill I dread every month. Since we are all about saving and the holidays are coming up, I thought maybe we should finally look into mobile service that didn't require a contract but still offered us great coverage at a great price and also allowed us to have smart phones. As far as no contract service goes, there are a lot of them out there however only one offers unlimited plans with everything our family is looking for and at an extremely affordable cost!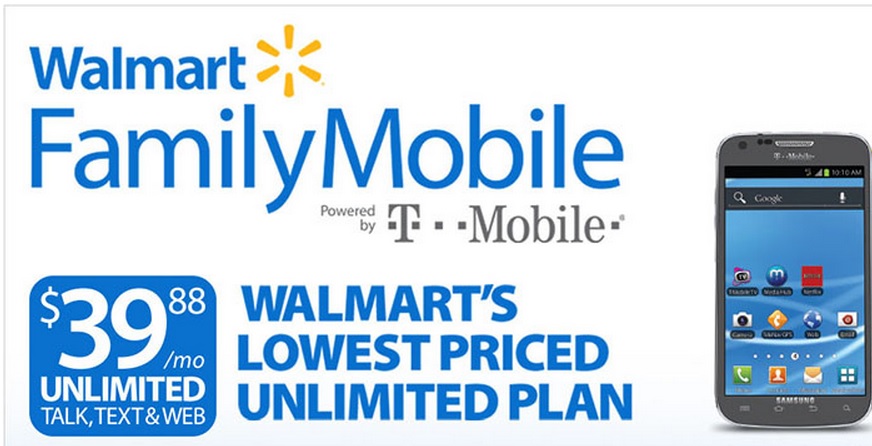 Walmart Family Mobile offers Unlimited Talk, Text & Web (Powered by T-Mobile) for $39.88 per month. Can you say affordable??
It didn't take me long after looking into the Walmart Family Mobile to learn that #FamilyMobileSaves! If we were to switch over to Walmart Family Mobile today, I would be able to save over $200 on our mobile service before the holidays arrive which would really help with the extra expenses that are known to popup.
Since we were already planning on heading to Walmart to grab a few things for Halloween, I figured it was a good time to check out the Walmart Family Mobile plan and different phones available to us as well.
When we arrived in electronics, I was suprised at the selection of phones that were availble under the Walmart Family Mobile plan.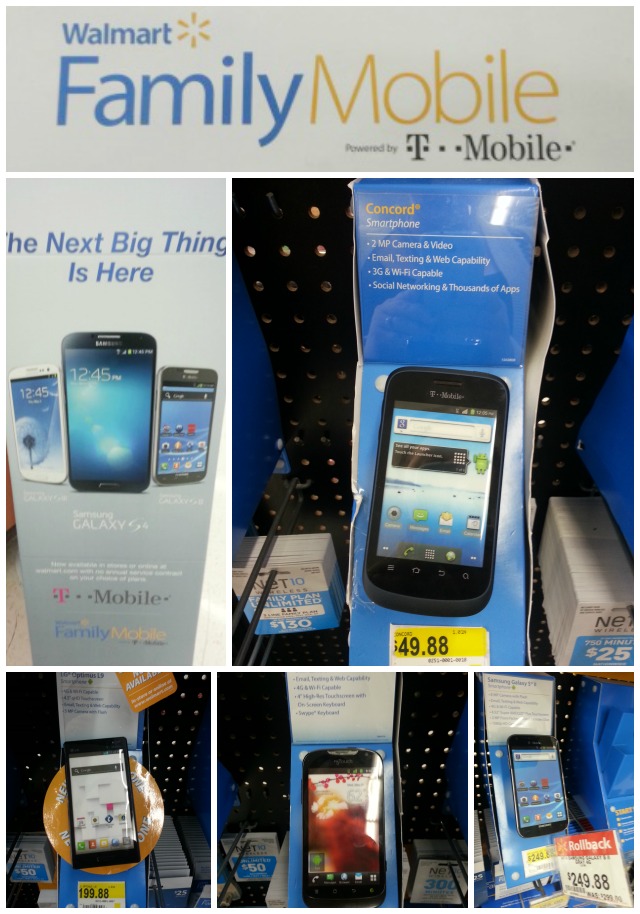 After looking over all the phones and learning how the service works, we decided before jumping ship from our current service provider that we would grab a phone that offered us the bare minimum of what we needed and try out the phone and service for a month or two. Unfortunately, I couldn't leave the store with our phone of choice, the Concord, that day since they were out of stock.
Once we returned home, I placed my order online for the Concord phone and a $25 Starter Kit.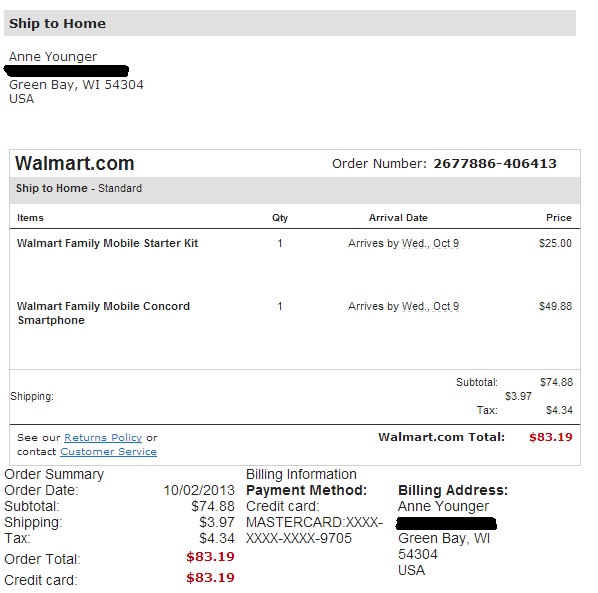 After ordering my phone Wednesday morning and seeing that it was scheduled to arrive by the following Wednesday, I was really suprised when it was delivered to my door two days later!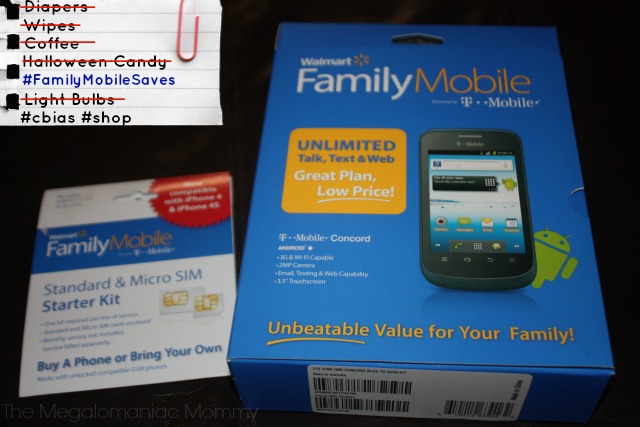 After the phone arrived, I was anxious to get it setup, which was a super easy task. After following 7 quick and painless steps, my new phone was activated and ready to go and I even managed to get my online account setup as well, making it easy to manage my new plan. Our new phone couldn't have arrived at a better time either. With a home Packer game scheduled over the weekend, it would be perfect to test the service provided by T-Mobile.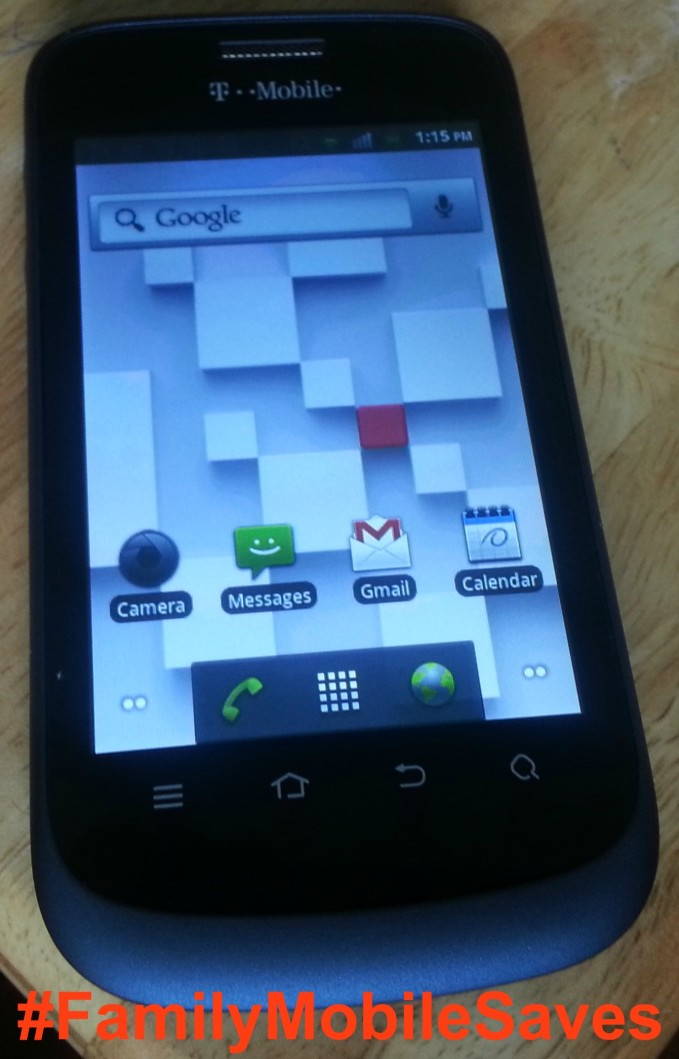 With our current service provider, we experience a lot of problems with our service during home games. Living in the shadows of Lambeau Field, where 80,000+ people gather for a game, we are lucky if we can make a call, text or receive both of these hours before and after game time.
So, when we were sitting at home today, watching our beloved Green Bay Packers and my Alex was in the midst of a call with his mom and boom….the call dropped, I figured we would see if we had any service with our Walmart Family Mobile phone and low and behold…..there he was, talking to his mom once again!
Needless to say, the Walmart Family Mobile service powered by T-Mobile worked great during our first home Packer game experience!
After he was done with his call to his mom, I spent a fair amount of time playing around on the internet, Facebooking, Tweeting, checking emails and texting my teenagers and not once did I experience an interuption in service!
My fingers are crossed that we continue to have such a great experience because I would love to save the extra cash every month and I also think the kids might enjoy new phones for the holidays!!
You can check out our entire trip to Walmart and see more photos from our shopping experience on Google +.
The following two tabs change content below.
Anne is a 30-something full-time SAHM mom of 5 ranging from 3 to 17 and grandma of 1 who resides in Ashwaubenon (Green Bay) Wisconsin. She started blogging in 2008 as a way to regain her sanity. She enjoys coffee, chocolate, cheeseburgers and vodka along with spending time with her husband and kids.
Latest posts by Anne Younger (see all)