I recently made a Twice Baked Potato Casserole to bring to my parent's house for Turkey Day. I was very pleased with the results and how quick and easy it was to make. It was so good that my mother has requested that I bring it for Christmas as well. I figured since I have already been asked for the recipe a dozen times I would post it here for all.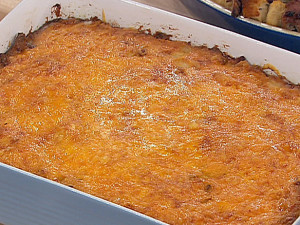 Twice Baked Potato Casserole
2013-04-13 17:10:14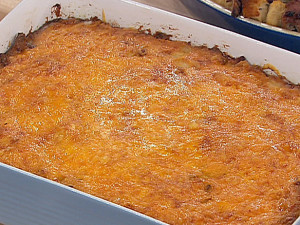 Ingredients
10 large russet baking potatoes (about 7 pounds total)
8 tablespoons (1 stick) plus 1 tablespoon unsalted butter, at room temperature
1 cup sour cream
1/2 cup heavy cream
2 teaspoons salt
1 1/2 teaspoons freshly ground black pepper
3/4 pound bacon, cooked until crisp and crumbled
1/2 pound sharp white Cheddar, cut into 1/2-inch cubes
3/4 pound mild Cheddar, grated (3 cups)
1/2 cup finely chopped green onions
3 eggs, lightly beaten
Instructions
Preheat the oven to 400 degrees F.
Scrub the potatoes well and rinse under cool running water. Pat dry with paper towels and prick the potatoes in several places with a fork. Place the potatoes in the oven and bake for 1 hour to 1 hour and 15 minutes, or until tender. Remove from the oven and set aside on a wire rack until cool enough to handle.
When the potatoes have cooled, cut each potato in half and, using a spoon or a melon baller, scoop the flesh out of the skins, leaving as little flesh as possible. Place the potato flesh in a large bowl and add 1 stick of the butter, the sour cream, heavy cream, salt, and pepper and mash until chunky-smooth. Add the bacon, cubed white Cheddar, half of the grated Cheddar, the green onions, and eggs and mix thoroughly.
Butter a 9 by 13-inch casserole with the remaining tablespoon of butter and reduce the oven temperature to 375 degrees F.
Place the seasoned potato mixture in the prepared casserole and top with the remaining grated Cheddar. Bake for 35 to 40 minutes, or until bubbly around the edges and heated through and the cheese on top is melted and lightly golden. Serve hot.
The Megalomaniac Mommy http://themegalomaniacmommy.com/
The following two tabs change content below.
Anne is a 30-something full-time SAHM mom of 5 ranging from 3 to 17 and grandma of 1 who resides in Ashwaubenon (Green Bay) Wisconsin. She started blogging in 2008 as a way to regain her sanity. She enjoys coffee, chocolate, cheeseburgers and vodka along with spending time with her husband and kids.
Latest posts by Anne Younger (see all)