You may recall earlier this month when I shared a post about TropiClean® Fresh Breath Drops™ and how we are using them to help keep Balty's breath fresh as well as keeping him in good oral health. Well, we've been using the drops for about a month now and it's time to follow up with you on how things are going.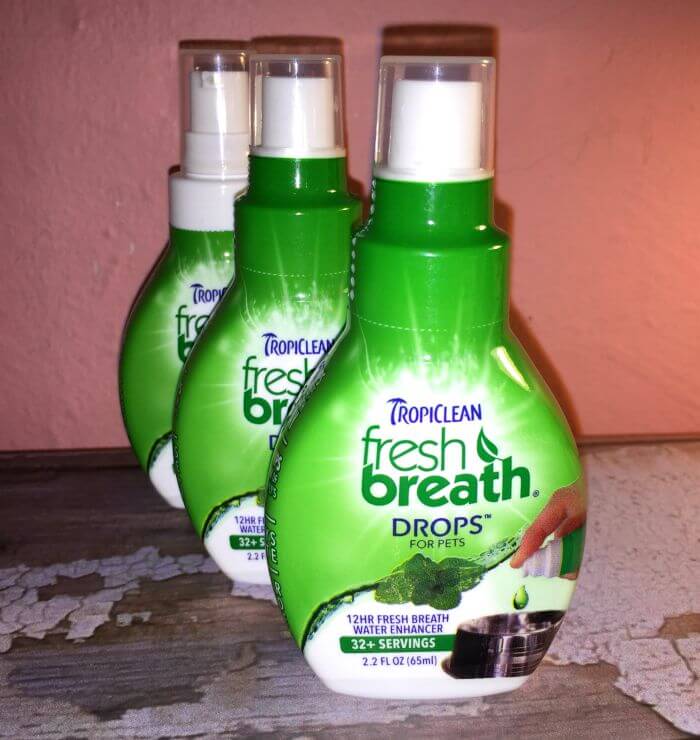 First off, Balty cannot get enough of this water enhancer. I actually think he drinks more water when the drops are added in because he really enjoys the flavor.
Balty is a very large American Staffordshire Terrier mix and most of the time, he seems to forget just how big he is and thinks he is a lap dog. Although he is this huge pup, he is the sweetest and most loving dog and he loves nothing more than to show you his affection….with kisses. Lots and lots of kisses. Basically, his face is always in someone else's face so fresh breath is very important.
I'm happy to report that after almost a month of use, we have definitely noticed a difference in his breath, especially after he's been gnawing on a giant chicken flavored rawhide for hours and heads over to his water dish to take a drink and 'freshen' up.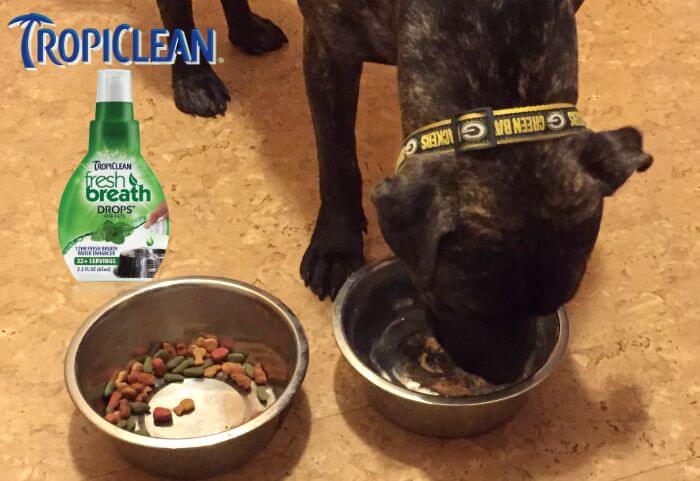 If TropiClean Fresh Breath Drops can make the nasty chicken smell go away immediately, I'm sold!
Balty's fresh breath has also made is much easier for me to deal with him when he decides to join me in bed in the middle of the night and put his face right in mine. Oh, he also thinks he's a human.
I am happy to have a product like TropiClean to promote good oral health while keeping Balty's breath smelling good!
Get TropiClean
You can purchase TropiClean Fresh Breath Drops for your pooch at local retailers such a Petco, Pet Supermarket, Pet Club and many other independent retailers. Locate a store near you now by clicking here!
Connect
Be sure to connect with TropiClean on Facebook, Twitter and Instagram to learn all about their products. For more information, visit TropiClean online.
The following two tabs change content below.
Anne is a 30-something full-time SAHM mom of 5 ranging from 3 to 17 and grandma of 1 who resides in Ashwaubenon (Green Bay) Wisconsin. She started blogging in 2008 as a way to regain her sanity. She enjoys coffee, chocolate, cheeseburgers and vodka along with spending time with her husband and kids.
Latest posts by Anne Younger (see all)