Once again, those crazy pups are back and as I've told you before, we are big fans!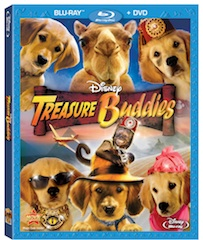 On January 31, 2012, The Walt Disney Studios proudly unleashes Treasure Buddies, an all-new live action feature for the whole family on Blu-ray™, DVD and Digital. The 6th film in the Buddies franchise stars everyone's favorite talking canine superstars Rosebud, B-Dawg, Budderball, Buddha and Mudbud, as the pup pack journeys to mysterious Egypt in search of the greatest treasure known to animalkind, the legendary Cat's Eye jewel, from the lost treasure of Cleocatra! Danger lurks around every secret sphinx, cryptic crypt and puzzling pyramid as Ubasti, a devious cat, schemes to possess the mystical jewel and use its powerful energy to rid the planet of all dogs! With help from new lovable friends Cammy, a baby camel – and a mischievous monkey named Babi – the gang and their new friends avoid booby traps, solve puzzles and explore a mysterious tomb in their most exciting and challenging adventure yet.
Of course, since we are big fans, we are really excited about this film and are happy to be able to share this awesome sneak peek with you!
Disclaimer: This information was provided to me and shared on behalf of Disney and Click Communications–we are big fans of the Air Bud franchise!
The following two tabs change content below.
Anne is a 30-something full-time SAHM mom of 5 ranging from 3 to 17 and grandma of 1 who resides in Ashwaubenon (Green Bay) Wisconsin. She started blogging in 2008 as a way to regain her sanity. She enjoys coffee, chocolate, cheeseburgers and vodka along with spending time with her husband and kids.