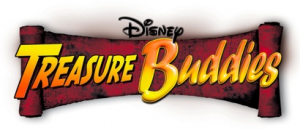 As you have all heard before, Alexander is a huge fan of all of the Air Bud / Buddies movies.  Every time he sees a commercial for a new one all we hear about is how he wants it soooooo bad!
The latest movie in the Buddie's series, Treasure Buddies, has arrived on Blu-ray and DVD. The 6th film in the Buddies franchise stars everyone's favorite talking canine superstars Rosebud, B-Dawg, Budderball, Buddha and Mudbud, as the pup pack journeys to mysterious Egypt in search of the greatest treasure known to animalkind, the legendary Cat's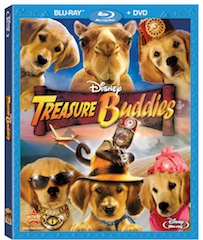 Eye jewel, from the lost treasure of Cleocatra! Danger lurks around every secret sphinx, cryptic crypt and puzzling pyramid as Ubasti, a devious cat, schemes to possess the mystical jewel and use its powerful energy to rid the planet of all dogs! With help from new lovable friends Cammy, a baby camel – and a mischievous monkey named Babi – the gang and their new friends avoid booby traps, solve puzzles and explore a mysterious tomb in their most exciting and challenging adventure yet.
We sat down and watched this movie as a family earlier tonight and once again, Disney did not disappoint with the Buddies. Treasure Buddies is another adorable movie that sucks the little ones in with the dogs who ooze cuteness!
After the movie, we checked out the awesome bonus features, the little dude's favorite was the "Roam" music video which made him dance and shake his little tush.
Plan a movie night with your family and enjoy Treasure Buddies along with these awesome recipes and activities!
Disclaimer: I was provided with a promotional copy of this movie at no cost to me in exchange for my complete and honest review.
The following two tabs change content below.
Anne is a 30-something full-time SAHM mom of 5 ranging from 3 to 17 and grandma of 1 who resides in Ashwaubenon (Green Bay) Wisconsin. She started blogging in 2008 as a way to regain her sanity. She enjoys coffee, chocolate, cheeseburgers and vodka along with spending time with her husband and kids.