The Travel-Tot childproof kit is geared for anyone traveling with small children or has small children visiting. When I was developing the kit, I would throw it in my suitcase whenever we traveled. I did not always use every single item, but I was traveling with a little more peace of mind. Of course, I was not any less vigilant, but I was more relaxed. And I do not know anyone who travels with their children who is not looking for a little less stress!
– Wendy Bergstrand, COO, Travel-Tot, LLC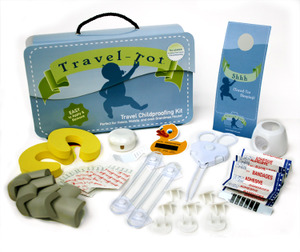 A few weeks ago we ventured to Chicago with Alexander and Ellie in tow. This was our first adventure with just the littles and our first time staying in a hotel with a mobile 11-month-old. I'll admit it, it was quite the experience.
Hotels don't offer a lot of in-room safety features for the little kids, thankfully we were prepared with the Travel Tot – Travel Childproofing Kit.
The Travel Childproofing Kit includes 2 finger pinch guards, electrical outlet covers, foam corner guards, a door knob cover, cord wind-up, sliding door lock, cabinet lock, multi-purpose straps, water thermometer, bandages, forehead thermometer and a door hanger to warn others of a sleeping tot.
We used the finger pinch guards on the bathroom door and quickly covered all exposed outlets. We were also very thankful to have bandages in the kit because Alexander gave himself a paper-cut opening his goodies from the Lego store.
We love the Travel-Tot Childproofing Kit because it is easy to take along, doesn't require any tools and all items that require application are attached with non-damaging adhesive strips so you don't have to worry about leaving a mess behind!
Connect:
You can connect with Travel-Tot on Facebook, Twitter and Pinterest.
Buy It:
You can buy your own Travel-Tot Travel Childproofing Kit for $34.95 HERE.
The following two tabs change content below.
Anne is a 30-something full-time SAHM mom of 5 ranging from 3 to 17 and grandma of 1 who resides in Ashwaubenon (Green Bay) Wisconsin. She started blogging in 2008 as a way to regain her sanity. She enjoys coffee, chocolate, cheeseburgers and vodka along with spending time with her husband and kids.