Nothing is quite as memorable as when you can experience the wonder of Australian wildlife with your family. Fortunately, there are some family-friendly destinations which provide fantastic opportunities to have the ultimate animal encounter, if you know where to look. Here are the top 4 that are sure to impress the whole family.
Meet the Dolphins
The opportunity to meet wild dolphins in a stunning and pristine natural environment is a truly magical experience. Monkey Mia is one of the world's best places to interact with wild dolphins, and is located approximately 800km north of Perth. For over 40 years, dolphins have been visiting the shores of Monkey Mia, and make daily trips for feeding.
Researchers from around the world gather here to study these incredible animals. With shimmering turquoise waters and stretches of pure white beaches, Monkey Mia is a truly beautiful place to take your family for this unique experience. Best of all, this amazing opportunity is entirely free!
Great Barrier Adventure
Treating your family to a spectacular animal adventure is guaranteed when you travel to the Great Barrier Reef. Listed as one of the natural Wonders of the World, the Great Barrier Reef is comprised of almost 3000 individual reefs and 880 islands. It is teeming with an abundance of wildlife, including over 1500 species of colourful tropical fish, as well as a collection of marine turtles, sea snakes, flocks of birds and more.
It's a great place to see the wonder of natural diversity first hand, and is home to over 30 individual species of whales and dolphins. To make the most of your adventure, consider the option of taking one of the many tours in Great Barrier Reef, it's a worthwhile investment to truly explore everything that the reef has to offer.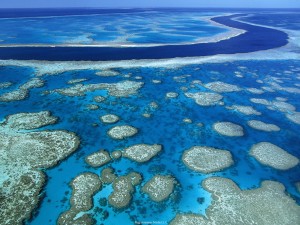 Up Close and Personal
Taking a trek to Australia Zoo is a fun day-trip for every family. Made famous by the late Steve Irwin, the likeable Crocodile Hunter's family have done a wonderful job with keeping the Zoo a vibrant and educational place to visit. Their passion for wildlife is evident in all of the shows, and in the immaculate enclosures and upkeep of all of their animals. If you're visiting the Sunshine Coast, taking a detour via Australia Zoo is definitely worth the effort.
Island Retreat
If you're planning a trip to South Australia, you simply must take a few days to explore the iconic Kangaroo Island. Some of the local island animals include kangaroos, echidnas, goannas, koalas, possums, bandicoots and more. Your children will love the chance to stand on the boardwalk merely metres away from majestic sea lions as they cavort on the beach in huge colonies.
Taking a tour is highly recommended, particularly since most of the island's inhabitants like to come out at night. You and your family will be taken to special tour-only access areas, and will be able to share your guide's expert knowledge on everything to do with Kangaroo Island's diverse animal population.
Sometimes seeing the best when it comes to wildlife often means trekking to exotic and diverse places, many that simply aren't suitable for families. These 4 great destinations are guaranteed to be fun and family-friendly, and all will allow you to get up close and personal with some of Australia's most amazing animals!
Written by Jasmine Poole
Jasmine has travelled across 30 countries in the last 18 months with her 10 year old girl. She is currently in Darwin, Australia.
The following two tabs change content below.
Anne is a 30-something full-time SAHM mom of 5 ranging from 3 to 17 and grandma of 1 who resides in Ashwaubenon (Green Bay) Wisconsin. She started blogging in 2008 as a way to regain her sanity. She enjoys coffee, chocolate, cheeseburgers and vodka along with spending time with her husband and kids.