*This post is made possible by Tiny Love. I received a promotional item in order to facilitate this review. All thoughts and opinions are my own. This post may contain affiliate links.*
As we sit and wait out the weeks we have left until our little Joey arrives, I get more anxious to meet him everyday. I cannot wait to snuggle him and get a whiff of that new baby scent, or check out his cute little toes and I'm looking forward to having a little baby to play with and watch grow once again. I love when babies are first starting to explore their surroundings and check out everything that is going on around them.
One of my favorite things to do with the kids when they were babies was to introduce them to tummy time. I've always started out by getting them on a blanket on their belly for a few days and then introduced them to activity mats packed with fun.
Our little Joey is going to have all kinds of fun during tummy time thanks to our friends at Tiny Love and their awesome Gymini Super Deluxe Lights & Music Activity Gym.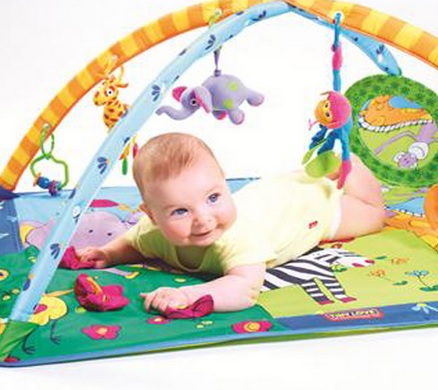 This is like the Rolls Royce of activity mats in my book. This activity mat offers a dual-position baby-activated Kick & Play response pad, a large selection of fun-filled rattling and swinging animal toys and a variety of different features all in one enchanting play environment.
I'm really excited for Joey to use this activity mat because it will offer him so much to do during those first 6 months of life, including a mirror so he can look at himself and chat away. All of my kids loved having mirrors as babies (Ellie is still obsessed with hers).
Here is a more indepth look at all of the activities for baby to enjoy!

Now we just need to wait for our little guy to arrive so we can start playing! It's going to be a very long 11 weeks!
Connect:
You can connect with Tiny Love on Facebook, Twitter or check out their videos on YouTube.
Buy It:
You can buy your own Tiny Love Gymini Super Deluxe below.
Thank you again to our friends at Tiny Love for this opportunity.
The following two tabs change content below.
Anne is a 30-something full-time SAHM mom of 5 ranging from 3 to 17 and grandma of 1 who resides in Ashwaubenon (Green Bay) Wisconsin. She started blogging in 2008 as a way to regain her sanity. She enjoys coffee, chocolate, cheeseburgers and vodka along with spending time with her husband and kids.