Since first watching Tinker Bell and The Great Fairy Rescue back in 2010, our family has fallen in love with Tinker Bell and her adorable fairy friends. Ever since we sat down to watch that movie, we've had to own every movie since and they haven't let us down.
Tinker Bell and The Legend of The Neverbeast is the latest film in the Tinker Bell franchise and it might be our new favorite!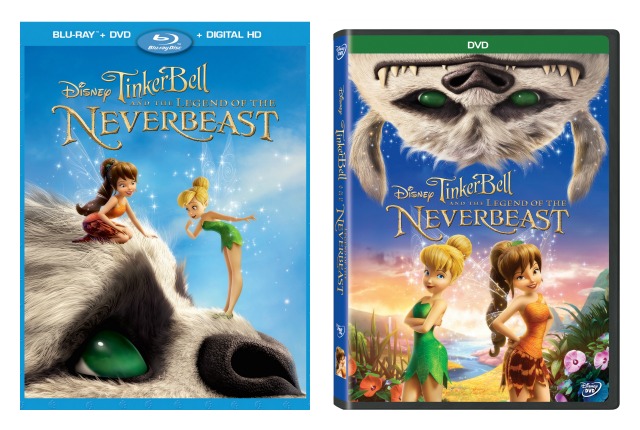 The all-new Tinker Bell film is about the relationship that develops between Fawn, a compassionate animal fairy who thinks with her heart, and Gruff, a massive beast with glowing green eyes who seems to be on a mission.
This movie is so stinking cute and don't even get me started on Gruff…..can he please come live with us?
You can check out a clip from the movie below.
My 15 year-old niece happened to be over when we watched the movie and she said that the movie was,"Fantastic and extremely heart wrenching. It is filled with emotional twists and turns that make up an overall astounding film." She also may have told me that it almost brought her to tears on more than one occasion.
Of course, she wasn't the only one who enjoyed the movie. Ellie's eyes were glued to the TV throughout the film and she has watched it every day since. Joey was completely captivated by all the colors and the flying fairies, but he's still not sure about Gruff.
All in all, Tinker Bell and The Legend of The Neverbeast is another great, family film that will be in our regular movie night rotation.
Fun with Fawn
Check out these great Tinker Bell and The Legend of The Neverbeast activities and have some fun with Fawn!
Be sure to grab your copy of Tinker Bell and the Legend of the Neverbeast
today for your family to enjoy.
More Fairy Fun!
The following two tabs change content below.
Anne is a 30-something full-time SAHM mom of 5 ranging from 3 to 17 and grandma of 1 who resides in Ashwaubenon (Green Bay) Wisconsin. She started blogging in 2008 as a way to regain her sanity. She enjoys coffee, chocolate, cheeseburgers and vodka along with spending time with her husband and kids.