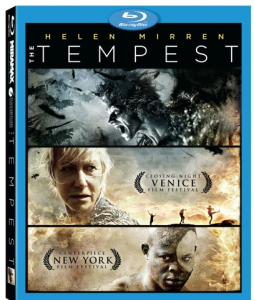 Do you enjoy Shakespeare?
Love a little mystic and magical fantasy in movies?
Think Helen Mirren is incredible in every role she takes on?
If you answered yes to all of these, then The Tempest is the movie for you to get your hands on!
Exiled to a magical island, the sorceress Prospera (Mirren) conjures up a storm
that shipwrecks her enemies, and then unleashes her powers for revenge.
Directed by Julie Taymor (Frida) — and complete with exclusive bonus features —
The Tempest, with its innovative twist, is a supernatural dramedy filled with
Shakespearean villains, lovers and fools that will leave you spellbound.
I'll be the first to admit that when we originally received this movie, I thought for sure it was going to be something that oly the Alex would take in interest in, but I was wrong.
I enjoyed it too!
Oh, did I mention that Russell Brand is in it too?
Seriously, anything with Russell Brand is sure to be good.
Really, I wouldn't lie!
There is even a great bonus feature of Russell Brand's Rehearsal Riff in addition to The Tempest Documentary, music video and audio commentary with Director Julie Taymor.
You can watch the trailer below:
Disclaimer: This promotion was based on using information provided by Walt Disney Studios Home Entertainment. Walt Disney Studios Home Entertainment does not represent or warrant the accuracy of any statements or product claims made here, nor does it endorse any opinions expressed within this blogsite. The opinions stated from me are 100% mine and they are my true thoughts on this film.
The following two tabs change content below.
Anne is a 30-something full-time SAHM mom of 5 ranging from 3 to 17 and grandma of 1 who resides in Ashwaubenon (Green Bay) Wisconsin. She started blogging in 2008 as a way to regain her sanity. She enjoys coffee, chocolate, cheeseburgers and vodka along with spending time with her husband and kids.
Latest posts by Anne Younger (see all)