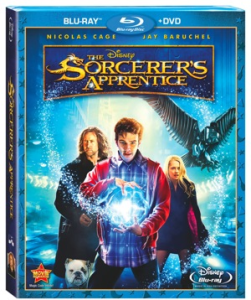 On November 30th 2010, Walt Disney Pictures and Jerry Bruckheimer Films released The Sorcerer's Apprentice starring Nicolas Cage.
My family was fortunate to receive a copy to review and the kids, did just that.
Here is a brief description of the film:
A fun, modern-day adventure follows Dave (JAY BARUCHEL), just an average college student, or so it
appears, until the sorcerer Balthazar Blake (NICOLAS CAGE) recruits him as his reluctant protégé and
gives him a crash course in the art and science of magic. As he prepares for a battle against the forces
of darkness in modern-day Manhattan, Dave finds it is going to take all of the courage he can muster to
survive his training, save the city and get the girl as he becomes THE SORCERER'S APPRENTICE.
Bonus Features:
Go behind the scenes and on location to learn all about the making of  The Sorcerer's Apprentice
Blu-Ray:
Magic In The City
The Science Of Sorcery
Making Magic Real
The Fashionable Drake Stone
The Grimhold: An Evil Work Of Art
The Encantus
Wolves & Puppies
The World's Coolest Car
5 Deleted Scenes
Outtakes
And more!
DVD / iTunes:
The Making Of The Sorcerer's Apprentice (DVD only)
Deleted Scene: Balthazar Recruits Dave
As for our thoughts on the film, they come straight from the mouth of my 11 (almost 12) year old son Zack.
Here is our Q & A:
Q: What are your overall thoughts on the movie?
A: It was good.
Q: What was your favorite part?
A: When the apprentice has the giant lightening bolts that play music.
Q: Did you get bored at all while watching it or were you really into it?
A: I was REALLY into it.
Q: Would you recommend this movie to your friends at school?
A: Yeah. Most definitely.
Q: Is there anything else you would like to share about the movie with the readers of The Megalomaniac Mommy?
A: It was a really good movie and I think it would be great to give as a Christmas gift.
Q: What was your favorite bonus feature?
A: The Science of Sorcery
And there you have it!
And now, here's a sneak peek at the movie!
Disclaimer: This promotion was based on using a complimentary product provided by Walt Disney Pictures and Jerry Bruckheimer Films.Walt Disney Pictures and Jerry Bruckheimer Filmsdo not represent or warrant the accuracy of any statements or product claims made here, nor does it endorse any opinions expressed within this blogsite. The opinions stated from me are 100% mine and they are my true thoughts on this film.
The following two tabs change content below.
Anne is a 30-something full-time SAHM mom of 5 ranging from 3 to 17 and grandma of 1 who resides in Ashwaubenon (Green Bay) Wisconsin. She started blogging in 2008 as a way to regain her sanity. She enjoys coffee, chocolate, cheeseburgers and vodka along with spending time with her husband and kids.