*This post is made possible by Disney. I received a promotional item in order to facilitate this review. All thoughts and opinions are my own. This post may contain affiliate links.*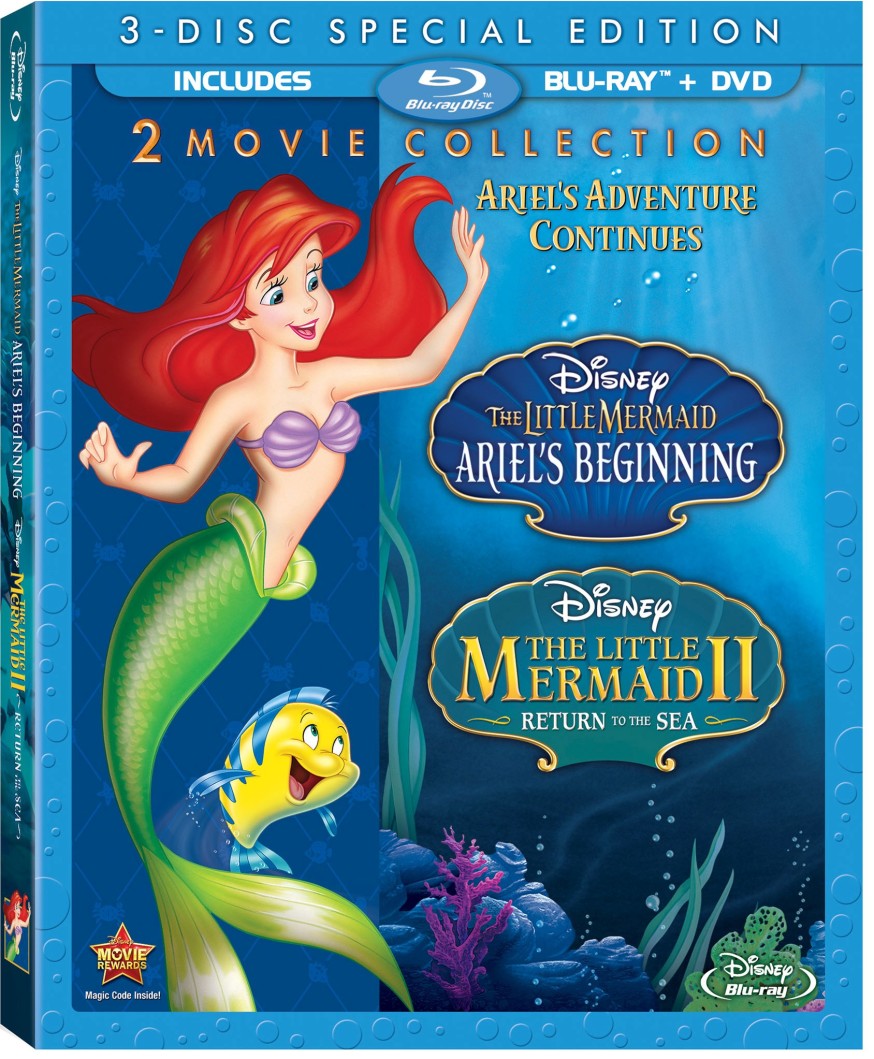 I have always enjoyed the tale of The Little Mermaid and have loved bringing Ariel into our home for my children to discover the world under the sea as well.
I'm happy to now share more of Ariel's world with my kiddos with The Little Mermaid II: Return to the Sea and The Little Mermaid: Ariel's Beginning now available on Disney Blu-ray Combo Pack in a 2-movie collection.
For those new to these two films, here is a little info and a peek at each.
The Little Mermaid II: Return to the Sea
All of your favorite characters from The Little Mermaid continue their adventures in this enchanting sequel to one of the most celebrated animated films of all time. Even though her parents tell her merpeople and Atlantica are just "old fish tales," Ariel's daughter, Melody, dreams of being part of that magical world. In an unforgettable story that will take your breath away, all the good creatures on the land and under the sea must join forces to show Melody that both her worlds can live in perfect harmony.
The Little Mermaid: Ariel's Beginning
One of Disney's most beloved characters reveals the extraordinary events that led up to her transformation into a princess! Long before Ariel walked on land and into Prince Eric's heart, she was one of seven beloved daughters of powerful King Triton. But times were troubled in the underwater kingdom – and music was banned! In this magical adventure, Ariel, her fun-loving sisters, and her loyal friends Sebastian and Flounder strive to bring music and friendship back to Atlantica. Featuring breathtaking animation – and some thrilling surprises – The Little Mermaid: Ariel's Beginning is an enchanting tale you'll share with your family again and again!
Overall the kids really enjoyed both flicks. Ellie was extremely mesemerized by the pretty girl fishy. For me, I loved these movies almost as much as I love the original movie. Definitely a great combo to add to your Disney Collection.
In addition to the movies, this combo pack also includes some great bonus features as seen below.
Bonus Features: (Blu-ray & DVD)
THE LITTLE MERMAID II: RETURN TO THE SEA
"The Little Mermaid II" Storybook
Deleted Song "Gonna Get My Wish"
Classic Animated Short "Merbabies"
THE LITTLE MERMAID: ARIEL'S BEGINNING
Splashdance: A Dancer's Adventures Under The Sea
Deleted Scenes with intros by Director Peggy Holmes
Music & More
Sing Along With The Movie
The Little Mermaid: Under the Sea and Behind the Scenes on Broadway (DVD only)
Mermaid Discovery Vanity Game (DVD only)
Buy It
The following two tabs change content below.
Anne is a 30-something full-time SAHM mom of 5 ranging from 3 to 17 and grandma of 1 who resides in Ashwaubenon (Green Bay) Wisconsin. She started blogging in 2008 as a way to regain her sanity. She enjoys coffee, chocolate, cheeseburgers and vodka along with spending time with her husband and kids.
Latest posts by Anne Younger (see all)