Last month, I had the pleasure of traveling to Los Angeles to attend the World Premiere of The Lion King 3D as was absolutely smitten with the film. Last weekend, I packed up the whole family and we went to the local theater to see it.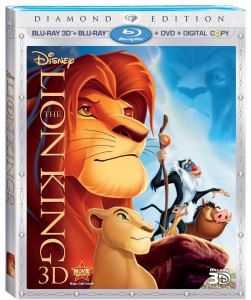 They loved it!
TaterTot talked about it FOR DAYS.
Actually, I take that back….he's STILL talking about it!
This was his first time seeing The Lion King and also seeing a movie in 3D.
Now, can you imagine how excited he was when The Lion King on Blu-Ray arrived for us to review?
He was speechless.
It's been watched at least a dozen times.
He can't decide if he is Pumbaa or Timom….all he knows is his favorite part is when they dress in drag and do the hula!
The Blu-Ray debut marks the first time The Lion King has been available in any format since 2004. Now with high definition picture and sound you will experience a new Lion King that will not disappoint!
The Lion King on Blu-ray will roar into stores on October 4th for a limited time only.  It will be available as a one-disc DVD begining November 15th.
The Lion King Blu-ray does offer up some awesome special features and I was excited to share The Lion King:  A Memoir with my family after having the opportunity to screen it in Los Angeles and meet with Don Hahn.
We also enjoyed checking out the sing along mode and my kids haven't stopped singing since!
Now that we have this version, I am thinking we need to add The Lion King Trilogy to our collection at Christmas!!
Make sure to get your hands on a copy of The Lion King while you can because before you know it, it will be locked inside the Disney Vault once again!
In the meantime, have a laugh!!!
Disclaimer: This promotion was based on using information provided by Walt Disney Studios Home Entertainment. Walt Disney Studios Home Entertainment does not represent or warrant the accuracy of any statements or product claims made here, nor does it endorse any opinions expressed within this blogsite. The opinions stated from me are 100% mine and they are my true thoughts on this film.
The following two tabs change content below.
Anne is a 30-something full-time SAHM mom of 5 ranging from 3 to 17 and grandma of 1 who resides in Ashwaubenon (Green Bay) Wisconsin. She started blogging in 2008 as a way to regain her sanity. She enjoys coffee, chocolate, cheeseburgers and vodka along with spending time with her husband and kids.
Latest posts by Anne Younger (see all)