While attending The Lion King 3D Mom Blogger Event in Los Angeles, we had the chance to get a look at how the Disney Magic happens. One of Disney's latest creations is Disney Second Screen which transforms and enhances your viewing experience by giving you the opportunity to explore the story behind the film while synced to another device such as an iPad or Laptop. (We've enjoyed using in on our desktop as well).
Disney Second Screen allows you to interact with your Blu-Ray player by syncing Second Screen to the film automatically.
Second Screen for The Lion King Diamond Edition offers some awesome features including a few new ones!
*New – An "ink" functionality has been added to the Ink & Paint feature that lets you become the animator and trace designs of favorite characters, step by step. On the "paint" side you can color the characters in greater detail using pinch and zoom within 13 ink and paint games
*New – Second Screen goes social with features connected to Facebook and Twitter that allow you to "like", check-in and share messages from characters and earn 21 achievements and rewards:
*Check in to 16 virtual movie locations, such as Pride Rock.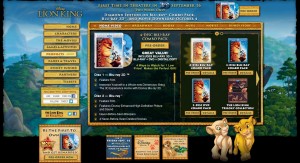 *5 exclusive E-ticket rewards, based on the famed old Disney ride ticket booklets, that can be unlocked through participation in social features and can be redeemed for additional bonus content.
*Disney Second Screen Facebook app that tracks all of your achievements
*350+ galleries featuring a look into the creation of Lion King with over 1000 images of storyboards, concept art and designs
*50+ trivia facts
*13 videos
*5 deleted scene sequences
*18 flipbooks
*23 scene scramblers
Disney Second Screen is A LOT of fun and currently works with Tron: Legacy, Bambi and Pirates of the Carribbean. Second Screen will work with The Lion King when it is available on Blu-Ray October 4th, 2011.
You can learn more about Disney Second Screen by clicking HERE.
---
Another awesome thing we had the chance to do was learn how the film was transformed to stereoscopic 3D. The goal of this transition was to take the two dimensional images that had been created with pen and paper by the animators and transform them into a 3D image that would bring it to life on screen.
Stereographer Robert Neuman who worked on this 3D feature had to review almost 1,200 individual scenes in order to create the script to map out the depth of the 3D effects. Neuman had a team of 65 people to complete this project that took 4 months.



I recently came across a great interview with Robert Neuman that goes into further detail about the process that you can read HERE.
The Lion King Roars into theaters September 16th, and comes home on Blu-ray 3D and Blu-ray Hi-Def on October 4th!
**A special thank you to the folks at Disney and Click Communications for this opportunity. All transportation, meals and hotel expenses were covered by Disney.**
The following two tabs change content below.
Anne is a 30-something full-time SAHM mom of 5 ranging from 3 to 17 and grandma of 1 who resides in Ashwaubenon (Green Bay) Wisconsin. She started blogging in 2008 as a way to regain her sanity. She enjoys coffee, chocolate, cheeseburgers and vodka along with spending time with her husband and kids.