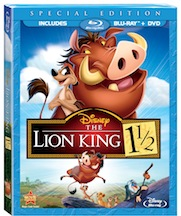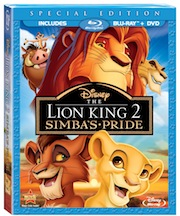 If The Lion King in 3D wasn't enough for you and your family then get your fix while you can with The Lion King 1 1/2 and The Lion King 2: Simba's Pride on Special Edition Blu-ray Combo Packs!
Believe it or not, there are people out there who were not aware that these movies existed!
In The Lion King 1 1/2 you get to here Pumba and Timon's take on things and what their lives were like prior to meeting Simba. Basically, you get theie entire perspective in a humorous and musical way!
Here is a little glimpse in to The Lion King 1 1/2.
This is one of my favorite scenes because it makes me giggle every time I see it!
In The Lion King 2: Simba's Pride you get to follow Simba's daughter Kiara. It really gives you a look at life after everything that happened in The Lion King when Simba & Nala fall in love and have a child of their own.
Here is a clip entitled Mind Your Father which reminds me of the scene in the original Lion King when Simba and Mufasa are talking about not traveling to the elephant bone yard.
Be sure to add these titles to your Disney collection before it is to late!
Also, be sure to check out all of these awesome activities below!
Disclaimer: We received promotional copies of these films in exchange for our complete and honest review. All thoughts and opinions are our own.
The following two tabs change content below.
Anne is a 30-something full-time SAHM mom of 5 ranging from 3 to 17 and grandma of 1 who resides in Ashwaubenon (Green Bay) Wisconsin. She started blogging in 2008 as a way to regain her sanity. She enjoys coffee, chocolate, cheeseburgers and vodka along with spending time with her husband and kids.