*This post is made possible by The Harlem Globetrotters. I received a promotional item in order to facilitate this post. All thoughts and opinions are my own. This post may contain affiliate links.*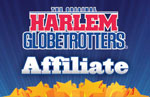 I am excited to share that I recently became a Harlem Globetrotters Affiliate! For years, my kids have seen the commercials advertising the local show of the Harlem Globetrotters right around Christmas and this year I am super excited that I will get to take them to their first show!!
With Alex working 2nd shift these days, our evenings are often filled with homework, after-school activities, different appointments and faith formation class once a week.
Lately I've been trying to make our nights without daddy a bit more fun. We now have pizza and movie night once a week, a weekly game night and we've been spending more time in the kitchen together as a family as well.
When time and finances allow for it I love taking the kids to special events in the area and I am really happy that this year, right after Christmas I am going on a date with Zack, Libby and Alexander to see the Harlem Globetrotters here in Green Bay!
When I shared this news with the kids they were really excited and they cannot wait to go. Mom better start saving up for some awesome souvenirs!
Be sure to get your tickets to a show near you!!

"The Harlem Globetrotters love seeing families laugh together during our games, and would love to see your family when we come to a city near you. If you're looking for an awesome event the whole family will enjoy, get your tickets to the Harlem Globetrotters "You Write the Rules" tour. Your family's smiles will start before you even get to the game because this year, your family can vote at harlemglobetrotters.com, and decide rules for the game like two balls in play at the same time that could affect the final outcome. After the game, Globetrotters will stay on court to sign autographs and take photographs with your kids. The only thing better than finding an event the whole family will enjoy, is getting a great deal on it. Save $7 per ticket* by using the promo code "TOGETHER". Get ready to experience a show your family will remember for a lifetime! *Discount available on select ticket levels"
The following two tabs change content below.
Anne is a 30-something full-time SAHM mom of 5 ranging from 3 to 17 and grandma of 1 who resides in Ashwaubenon (Green Bay) Wisconsin. She started blogging in 2008 as a way to regain her sanity. She enjoys coffee, chocolate, cheeseburgers and vodka along with spending time with her husband and kids.
Latest posts by Anne Younger (see all)