*This post is brought to you by our friends at Sony Pictures Home Entertainment. I received a promotional item in order to facilitate this review. All thoughts and opinions are my own. This post may contain affiliate links.*
If you are like me, a child who grew up in the 80's and loved it than you will LOVE The Goldbergs, if you are crazy about them already!
In case you haven't heard of The Goldbergs or the chance to check out the show, now is your chance! Season 1 just hit stores and you can get yours today!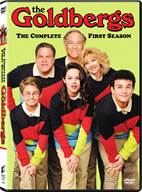 "The Goldbergs" is a coming-of-age comedy that brings viewers back to simpler times – when overbearing moms,
gruff dads and annoying siblings were par for the course. Documenting the ups and downs of growing up
in a multigenerational family in the '80s, this freshman-season comedy has earned big laughs, offering viewers a charming and intimate look at an average American family — just like yours, only slightly louder and more colorful.
There are sooooo many things I love about this show. I love seeing all of the great 80's styles, the music and the things families and kids loved to do.
If you are looking for a show that is guaranteed to make you laugh while basically reliving your childhood and pre-teen years, this is the show for you!
THE GOLDBERGS: THE COMPLETE FIRST SEASON contains all 23 episodes on three DVD discs, along with cast and crew commentary on five episodes, and five all-new, behind-the-scenes featurettes, including a look at creating the first season in "Blast from the Past: Making Season One." Additional featurettes include "Our House: The '80s Revisited," giving viewers an inside glimpse of the Goldberg home, as well as "On Set with Jeff Garlin," featuring Goldberg patriarch Murray (Garlin). Fans can also enjoy a rare glimpse into Patton Oswalt's process as narrator in "Patton Oswalt: Adam Grows Up." Lastly, "Costumes of the '80s: The Good, the Bad and the Ugly" takes fans on a tour of the wardrobe department where costume designer Keri Smith reveals details on dressing a show set in the '80s.
I am so thankful that Adam Goldberg for taking his family videos and turning them into this awesome show and giving me the chance to relive my childhood makes for some good laughs with my teeangers.
You can get your copy of The Goldbergs: The Complete First Season
for $19.99.
Don't waste any time……..Season 2 premieres September 24th!
The following two tabs change content below.
Anne is a 30-something full-time SAHM mom of 5 ranging from 3 to 17 and grandma of 1 who resides in Ashwaubenon (Green Bay) Wisconsin. She started blogging in 2008 as a way to regain her sanity. She enjoys coffee, chocolate, cheeseburgers and vodka along with spending time with her husband and kids.
Latest posts by Anne Younger (see all)