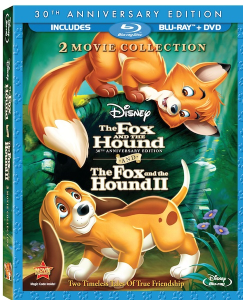 On August 9th, Walt Disney Studios Home Entertainment released the 30th Anniversary Edition of The Fox and The Hound AND The Fox & The Hound 2 as a 2-movie collection on Blu-Ray and DVD to celebrate!
The Fox & The Hound is a classic Disney movie and ranks right up there with Bambi and Dumbo and teaches us the power of friendship.
It is one of my favorite Disney films and I am excited that I get to share it with my children.
It tells the tale of Copper and Tod and all of their humor-filled adventures.
Check out this great preview:

My kids really enjoyed this film and were excited when I told them we could watch The Fox & The Hound 2 right after.
Both were an instant hit in our house and so were the bonus features.
They enjoyed doing the "Best of Friends" Sing-A-Long and learning how the film was made.
If you are looking for a great movie for your next family movie night, we definitely recommend The Fox & The Hound combo pack!

Disclaimer: This promotion was based on using information provided by Walt Disney Studios Motion Pictures. Walt Disney Studios Motion Pictures does not represent or warrant the accuracy of any statements or product claims made here, nor does it endorse any opinions expressed within this blogsite. The opinions stated from me are 100% mine and they are my true thoughts on this film.
The following two tabs change content below.
Anne is a 30-something full-time SAHM mom of 5 ranging from 3 to 17 and grandma of 1 who resides in Ashwaubenon (Green Bay) Wisconsin. She started blogging in 2008 as a way to regain her sanity. She enjoys coffee, chocolate, cheeseburgers and vodka along with spending time with her husband and kids.