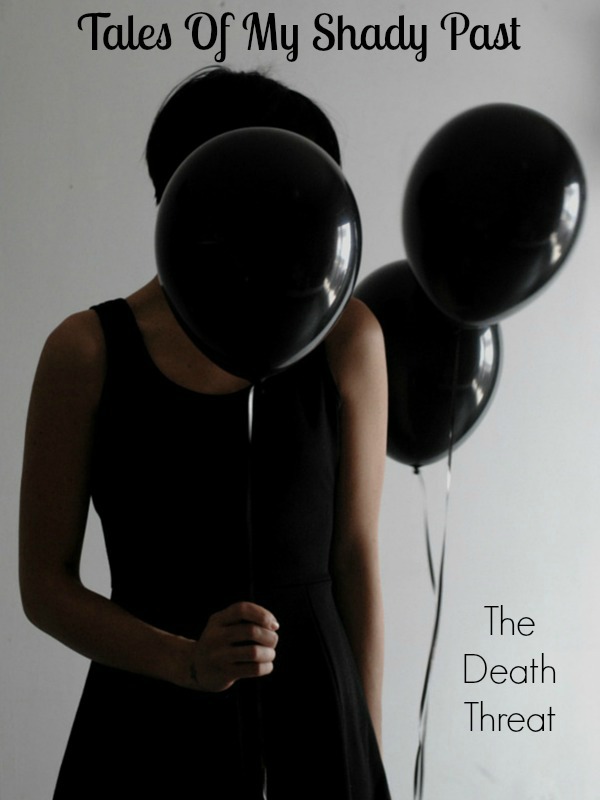 The Death Threat:
After my HUGE freak out, C and I decided to take the hour and a half drive to The Fire Fighter's house to inform him of my pregnancy.
We arrived at his home to find a huge party. There were drunk underage idiots EVERYWHERE!
When I finally located The Fire Fighter and summoned him to join me outside he was surprised to see me. We talked for a moment and then I let him in on the secret.
His reaction was not quite what I expected.
He walked away.
He went in the house.
He came back out with a 12 gauge shotgun in his hands.
He pointed it at me.
He threatened to end my life.
Right then and there.
I made C get in the car.
I tried to talk to him.
He was obviously drunk.
He told me to leave.
He told me to never come back.
He told me to do it now or he would pull the trigger.
I got in the car and C and I left.
We drove directly to the police station.
An officer took our statements as we explained everything that happened.
They dispatched a unit to the house and we were told we could leave.
I looked at the officer and made him aware that I was not leaving.
There was no way in hell I was leaving that police station until I saw that son of a bitch being brought in with handcuffs on his wrists.
We waited.
And waited.
We waited a little longer.
One by one people started entering the station.
People who had been at the house drinking.
Those who were underage.
The all looked at me knowing that I was the reason they were there.
I did not feel sorry for any of them as they called their parents to pick them up from the police station in the middle of the night because they had been busted for underage drinking.
There was no way in hell I was about to apologize to these people.
These people who watched that son of a bitch walk into his house, grab a 12 gauge shotgun and proceed to threaten both my life and that of my unborn child.
I had never been so happy as I was when I finally so that jackass brought in handcuffs.
They told me that he would definitely be staying for the night and I was now free to go.
C and I left the station.
We drove back to Green Bay.
I got into my car and got half way home.
Then I pulled over, got out of my car and threw up.
After that, I sat on the side of that road for over an hour bawling.
Earlier in the night I had seen my entire life flash before my eyes and was just thankful to know that it had not ended.
Continue Reading: The Secret Is Leaked
Don't Miss A Single Chapter! You can start from the beginning by heading over to the main page of Tales of my Shady Past.
The following two tabs change content below.
Anne is a 30-something full-time SAHM mom of 5 ranging from 3 to 17 and grandma of 1 who resides in Ashwaubenon (Green Bay) Wisconsin. She started blogging in 2008 as a way to regain her sanity. She enjoys coffee, chocolate, cheeseburgers and vodka along with spending time with her husband and kids.