On DVD and Blu-Ray 10/19/2010
As you may have read in my previous post, I spent Saturday night curled up in from of our TV with my husband and our 2.5 year old.  During this time, we had the opportunity to review The Crimson Wing:  Mystery of the Flamingos from Disney Nature.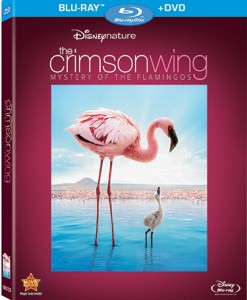 Again, another AMAZING film.  I never thought I would find myself so entranced by a nature documentary but this one captivated me.  This film taught not only myself, but my husband as well, all kinds of new things.
Learning about the flamingo and their lives from a birds-eye view was unreal.  This film is a heartwarming story of survival and offers you a glimpse of their very rare journey.
After watching the film, we also had a chance to check out some of the additional features like the Lake Natron Diaries, Living Planet and even get a screensaver.
Check out this trailer from the film:
Honestly, words cannot describe how much I loved this film.
I was truly amazed by the beauty captured in this film and hope you will check it out as well.
I think we can all learn something from the Flamingos.
Disclaimer: This promotion was based on using a complimentary product provided by Walt Disney Studios Motion Pictures. Walt Disney Studios Motion Pictures doesn't represent or warrant the accuracy of any statements or product claims made here, nor does it endorse any opinions expressed within this blogsite. The opinions stated from me are 100% mine and they are my true thoughts on this film.

The following two tabs change content below.
Anne is a 30-something full-time SAHM mom of 5 ranging from 3 to 17 and grandma of 1 who resides in Ashwaubenon (Green Bay) Wisconsin. She started blogging in 2008 as a way to regain her sanity. She enjoys coffee, chocolate, cheeseburgers and vodka along with spending time with her husband and kids.