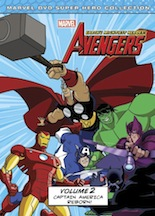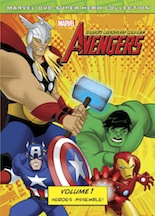 Marvel's newest animated series, The Avengers, featuring Iron Man, Thor, Captain America and The Hulk, is now available on DVD.
We are big fans of super heroes.
Right now, Alexander is convinced he is Spiderman and can shoot webs from his wrists.
The Avengers: Earth's Mightiest Hereos contains 13 episodes of action packed fun!
This collection includes the following episodes: EPISODES:
Volume 1 Episodes:
1. Iron Man Is Born!
2. Thor The Mighty
3. Hulk Versus The World
4. Meet Captain America
5. The Man in the Ant Hill
6. Breakout: Part 1
7. Breakout: Part 2
Volume 2 Episodes:
8. Some Assembly Required
9. Living Legend
10. Everything Is Wonderful
11. Panther's Quest
12. Gamma World: Part1
13. Gamma World: Part 2
Check out the following clips of some of our favorite Avengers!
Captain America:
Thor:
The Avengers surely did not disappoint anyone around here. The minute Alexander saw me take it out of the package he had to watch it. That little boy was a different Super Hero with every episode!!
Disclaimer: This promotion was based on using information provided by Walt Disney Studios Motion Pictures. Walt Disney Studios Motion Pictures doesn't represent or warrant the accuracy of any statements or product claims made here, nor does it endorse any opinions expressed within this blogsite. The opinions stated from me are 100% mine and they are my true thoughts on this film.
The following two tabs change content below.
Anne is a 30-something full-time SAHM mom of 5 ranging from 3 to 17 and grandma of 1 who resides in Ashwaubenon (Green Bay) Wisconsin. She started blogging in 2008 as a way to regain her sanity. She enjoys coffee, chocolate, cheeseburgers and vodka along with spending time with her husband and kids.