Well, I've been hard at work ALL day and night getting my blog up and running and am pleased to report that I have completed the task at hand. I am sure that I will continue to tweak it for the next few days until I am happy (with me that takes A LOT of work……just ask the Alex)!
Here I sit, debating on if I should go to bed or if I should continue to work, when I know darn well I should go to bed…..baby gets up mighty early! I think about going to bed and then I remember that the Libby is sleeping in my bed and I'm sure her little 4ft frame (all 60lbs of it) has probably taken over the entire surface of my queen sized bed…..knowing her I'm sure of it. Of course, now I have to go check and get photographic proof!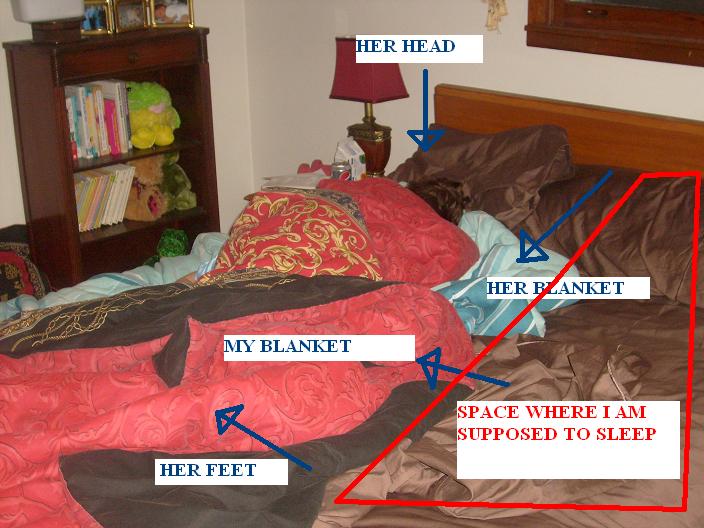 Now, if you know me, you're looking at the area in red thinking to yourself, how in the h**l is Annie gonna squeeze her big ol' butt into that tiny little space……well folks…..looks like I will be sleeping in the fetal position tonight or on the couch…..most likely the latter! This is the kind of stuff that happens when your hubby works 3rd shift…..you either sleep alone at night, don't sleep at all or sleep with a kid who hogs the bed!!!
While typing this, I made the executive decision to finish listening to my playlist (which is 1 more song….Dirty Dancing – NKOTB) and then call it a night! So for now I'm gonna call it a night and start closing things out!
The following two tabs change content below.
Anne is a 30-something full-time SAHM mom of 5 ranging from 3 to 17 and grandma of 1 who resides in Ashwaubenon (Green Bay) Wisconsin. She started blogging in 2008 as a way to regain her sanity. She enjoys coffee, chocolate, cheeseburgers and vodka along with spending time with her husband and kids.