My poor little Bean has the croup.
It all started with the sniffles, which led to icky running nose and huge green boogies.
And then the barking took over.
I spent a large portion of what should have been my sleeping hours last night in our bathroom with the shower running, sitting in the steam with my little lady.
I think I managed to squeeze in 45 minutes of sleep before the Hardworking Hubby came home and took her for another steam.
From that point I managed to steal another hour of sleep.
After nursing her in our bed, I got up to see this.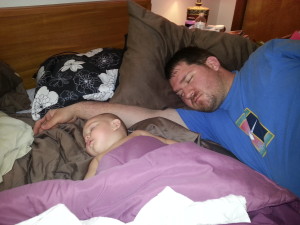 Thankfully she is starting to feel better now and her bark is fading away!
Here's hoping tonight involves sleep and not steam!