Posts Tagged 'online cards'
1. PLAN AHEAD!!
-This is a must! I like to plan my holiday shopping in advance to make sure I get the best deal on everything.
2. ASK FOR LISTS EARLY
-Again, another must do when shopping for others to ensure you get the item on the list and again, score the best deal on it!
3. LOOK ONLINE FOR ITEMS FIRST
-Prior to hitting any of the stores, I like to compare prices of items online. By doing this I can often get more items, score free shipping and locate a coupon/promo code to use for additional savings.
4. USE LAYAWAY IF POSSIBLE
-There are a few stores that have brought layaway back for the holidays. This is another great tool for those who need more time to pay on items.
5. DON'T BE AFRAID TO SHOP AROUND
-Again, I am a saver. I absolutely hate to overpay on anything and if I can use a coupon, I will every time!
6. HAVE THE LITTLE ONES MAKE PERSONAL/HOMEMADE GIFTS FOR GRANDPARENTS & OTHER LOVED ONES
-For me, the homemade gifts are always my favorite and the ones I will always cherish!
7. PERSONALIZE HOLIDAY CARDS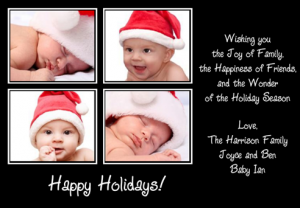 -Over the past few years, I have become a fan of sending out cards with cute family photos with a personal message on each, these are also our favorite cards to receive! I like to order our festive Christmas cards online since there are so many options available and I do it early enough in the season to ensure that I receive them early enough and get them mailed out in time!
8. PLAN YOUR MENU IN ADVANCE & CHECK YOUR SHOPPING LIST TWICE
-I remember many, many times my mom had to send someone to the store the night before a holiday or the morning of to pick up those few items that got skipped on the list.
9. KEEP A LIST OF EVERYTHING YOU BOUGHT, WHO IT IS FOR, AND WHERE YOU STASHED IT
-I CANNOT STRESS THIS ENOUGH!!!! My mom is notorious for buying gifts early in the year and stashing them around the house, forgetting where she put them and giving them to you a week or two after the holiday!
10. SAVE THE RECEIPTS FOR EVERYTHING YOU BUY EVEN IF YOU HAVE A GIFT RECEIPT!!
-Gift receipts have a tendency to get lost, mixed up etc. It is best to keep the original receipt on hand when giving a gift in case a return or exchange needs to be made.
Disclaimer: I wrote this blog post while participating in the Storkie holiday blogging program. I received compensation for my participation. All opinions are 100% mine.