Posts Tagged 'Minnie Mouse'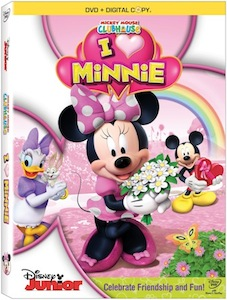 Hotdog Hotdog Hot Diggity Dog! Mickey Mouse Clubhouse: I Heart Minnie is now available in stores on DVD! Mickey Mouse Clubhouse: I Heart Minnie is packed with five fun-filled episodes as well as an all new bonus feature "You're Invited to Minnie's Birthday Party!" Two Best Friend necklaces are also included with this DVD, a great gift to give to that special someone on Valentine's Day!
The DVD has 5 classic episodes including Minnie & Daisy's Flower Shower, Daisy's Dance, Daisy's Pet Project, Minnie's Rainbow and Minnie's Birthday.
Mickey Mouse Clubhouse: I Heart Minnie is a great gift to pick up for your little one this Valentine's Day. We enjoy MMCH because it is fun, educational and keeps our little Tatertot entertained and always wanting more!
Here is a short clip from Daisy's Dance.
Be sure to share these awesome Valentine's Day activities with your little one as well!
Disclaimer: We received a promotional copy of this film in exchange for our complete and honest review. All thoughts and opinions are our own.
As many of you know, the little Tatertot does the "hotdog dance" A LOT around here.
What is the "hotdog dance"?
For those of you who watch Mickey Mouse Clubhouse, I'm sure you are in the know.
For those who don't watch it, here is a peak at it!

Tatertot not only dances to the song, but he sings in at various times throughout the day.
Needless to say, he is a fan!
We enjoy watching Mickey Mouse Clubhouse, and when I say we, I mean all of us. It's a really cute show.
A few months ago, Disney introduced our family to the Mickey Mote, and since that time we have been adding movies to our collection that include Discovery mode so Tatertot can interact with the show.
The most recent DVD we added to our collection is Minnie's Masquerade which is available in stores today, February 8th 2011.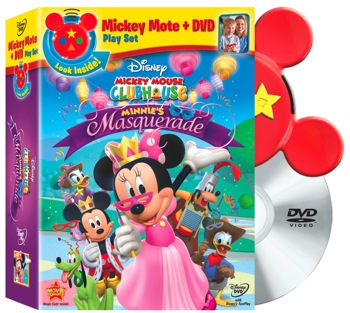 In this adventure, children get to join Minnie, Mickey and Pals in an adventure that celebrates themes of friendship, teamwork, sharing, problem solving and dressing-up.
This DVD includes four Minnie-themed adventures, a never-before-seen episode, and a free paper mask which Tatertot was very pleased to model!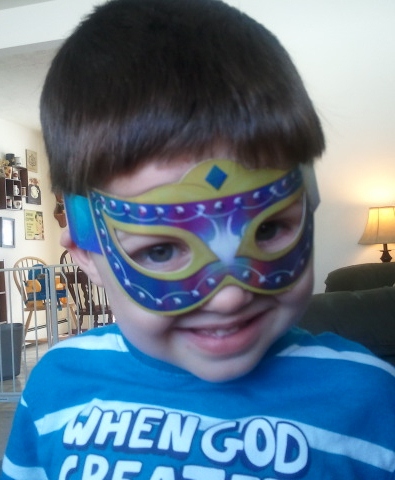 We all really enjoyed these episodes of Mickey Mouse Clubhouse, and we hope you will too!
Here is a little sneak peek just for you!
Disclaimer: This promotion was based on using a complimentary product provided by Walt Disney Studios Motion Pictures. Walt Disney Studios Motion Pictures doesn't represent or warrant the accuracy of any statements or product claims made here, nor does it endorse any opinions expressed within this blogsite. The opinions stated from me are 100% mine and they are my true thoughts on this film.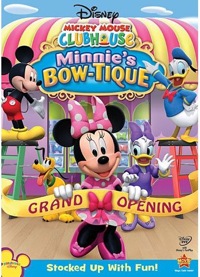 On Tuesday, February 9th, Disney will be relasing the Mickey Mouse Clubhouse: Minnie's Bow-tique on DVD. This video includes 4 episodes, one of which has never been seen. The episodes are Minnie's Bow-tique, Minnie's Bee Story, Minnie's Picnic, Minnie's Pajama Party* (Never-before-seen episode until 4/6/10)
I watched the episodes with my toddler today and we both enjoyed it. It was very interactive and educational. It including some great tunes for him to groove and he shook his little booty every chance he got.
We also enjoyed the great Bonus Features such as the Disney's Adventure Mode – an interactive game using the remote control with multiple play
levels. (I had A LOT of fun playing around with that!!)
The episodes weren't too long and my toddler was entranced with each one.
Another thumbs up to Disney for another great show!
Disclosure of material connection: http://cmp.ly/1