When I wrote about my trip to the ER last week, I may have mentioned something about having survived the most traumatic pelvic exam in my life but I also managed to leave out the fact that the doctor who was treating me had ZERO bedside manner.
As I laid on that bed, experiencing the worst moment of my life, you would think this doctor would be a little more sympathetic in what I was going through.
Nope.
Not.
At.
All.
He didn't care that I was emotional.
He didn't care that I was in pain.
He didn't care that I had tears running down my cheeks.
All he cared about was getting in and out of my room as fast as he could.
Never have I been in contact with a doctor like this.
He was rude and cold.
Do they not teach you in med school how to be sympathetic or that bedside manner or lack there of does affect your patients?
Dude, seriously if you are going to be a doctor learn to have some bedside manner!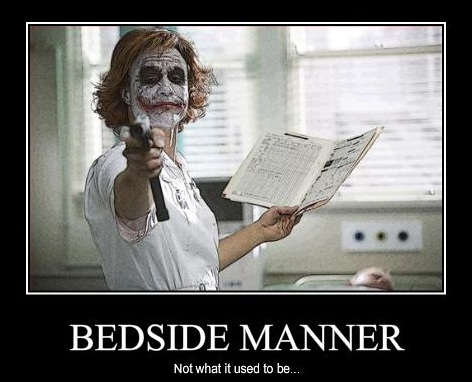 That's right folks.
I'm coming to you live from room 154 where I am currently sitting in bed, wearing my standard hospital issued gown and hooked up to my IV delivering me fluids, antibiotics, pain killers and other meds.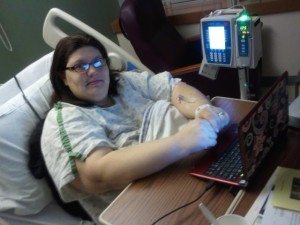 Lovely, no?
When I said I needed a vacation, this was NOT what I had in mind!
Remember that little trip I took earlier in the month?
Well, I'm pretty sure that was just the precursor to all of this.
For the last week, I've been having abdominal pain.
The only way I can describe it is that it feels like a contraction that hits its peak and never starts to descend. It's just constantly there.
And for those of you out there who have experienced child birth, you know what I mean.
It's so uncomfortable.
It hurts to yawn.
It hurts to eat.
It hurts to move around.
It just hurts.
So, for most of the week….I dealt with the pain.
I fed it a variety of over the counter pain meds in hopes of making it go away.
That didn't happen.
Friday night, the pain got so unbearable, I told the Hardworking Hubby I had enough and that I needed to go to the ER.
He obliged.
I was immediately given an IV and some AMAZING narcotics that made the pain go away. For the first time in days, I felt like myself except I was really, really high.
Seriously, I'm not high in my real life.
After some blood work, peeing in a cup, 93 ultra sound pictures of my insides, a bunch of x-rays and a chest CT to rule out a blood clot in my lung since my blood work showed that I do have a blood clot somewhere.
I was sent home with some meds and a prescription to poop.
Yes, the ER doc said my pain was the cause of being constipated.
So, I went home, took my drugs and a stool softener and took advantage of the narcotics and got some much needed sleep.
When I woke up 5 hours later, I was still feeling pretty good and was getting ready to head out to do some errands and prep for Tatertot's 3rd birthday party.
The Hardworking Hubby and I went to the store, gathered the items we needed and headed home.
As we were making our way home…..the pain was slowly making it's appearance. Apparently the narcotics and 800mg of Ibuprofen had decided it was time to stop hiding the pain.
Within an hour, I was doubled over in pain and dry heaving.
Needless to say, we quickly made our way back to the hospital.
That was Saturday at 2:30pm.
I'm still at the hospital and it is now Sunday at 11:40pm.
Since I arrived a lot has happened and it hasn't been fun.
They still don't know what is wrong with me, I haven't had any food since 6am Friday morning other than a piece of toast I tried to eat today, I've had a hida scan to see if my gall bladder is the issue….it's not and now tomorrow morning, I am having an endoscopy.
On the plus side……I'm no longer constipated!
The title of this post describes the events that occurred in my life this past Thursday night.
After the Hardworking Hubby left for work Thursday night, I finished watching my show and decided it was time to head to my desk and get some work done.  About 10 minutes after sitting down at my desk, my stomach began to hurt in a very, very bad way.  I thought I just needed to use the bathroom, so I excused myself from a conversation on Gmail Chat with @Blm03 and off I went.
After that….things get a little blurry.
I went to the bathroom.
I got very warm and dizzy.
The right side of my face started to stuff up.
Then it got hard to breathe.
Then my entire right side kind of went limp.
It's really hard to describe.
All of this happened while I was sitting on the toilet.
I know….such a beautiful picture to paint.
Next thing I know I smacked my head on the wall/window frame because I blacked out.
I was beyond dizzy and couldn't focus my vision.
It was pretty damn scary.
I had Zman call my dad and have my dad call 911 and get over to my house.
I knew something wasn't right.
From there, I went to a stretcher into an ambulance. (Can't wait to get that bill!)
I was having such a hard time breathing that I needed oxygen and my blood pressure was really low.
Once I got to the hospital I went through a series of tests and bloodwork.
It was soooo much fun.
I got an IV to administer fluids and some meds.
About 4 hours later, I finally got to leave.
Diagnosis….intestinal bleed and bowel infection.
NOT FUN.
I would not wish this on anyone.
Little did I know that I had been passing blood in my stools (EWWWW!!!!)
This is what led to my blood pressure dropping…or so I've been told.
So, now I sit at home taking some lovely antibiotics to fight the infection.
I am happy to report that I am starting to feel A LOT better!!!
Thanks to everyone who checked in with me on Facebook and Twitter after Zman reported his mom was in the hospital.
XOXO