It's hard to believe that our Little Bean is already 6 weeks old.
Over the weekend we put the finishing touches on her crib and then let her try it on for size.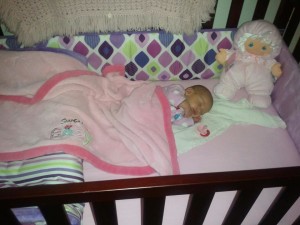 I can't believe just how little she looks in that big crib.
I think she will be staying in her bassinet a little longer!
In other Bean news, she's still doing good. She spits up A LOT so we are constantly doing laundry. Right now she has a bit of a cold so we are doing our best to get rid of it.
All in all, things are great and we are still just as smitten with her as we were the day she arrived!