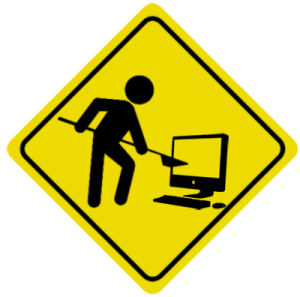 As you may notice over the next couple of weeks, there are some changes going on behind the scenes here at The Megalomaniac Mommy. I am in the process of reorganizing the site and making it easier to find things, changing up the categories, and making all of my recipes nice and prety and easy to print!
Please bear with me as this is a huge undertaking and I have 1400 posts to go through.
I will continue to post new material as well during this time.
If there is something in particular you are looking for and can't find, please let me know by leaving a comment on this post and I will gladly send you in the right direction.
Thank you!!
**UPDATE – 04/12/2013: I am working on finishing up all of the posts from 2009 and then I will move on. Please note that the new categories in the menu bar and those listed in the categories section will not pull all posts associated with that category until I am done cleaning up everything. All new posts from 3/23/2013 until now are all properly tagged and will show up. I will continue to update as I complete things. Thanks for sticking around!
**UPDATE- 04/13/2013: All of 2009 is now completed. I will be working on 2010 all of this week and will update when it is finished.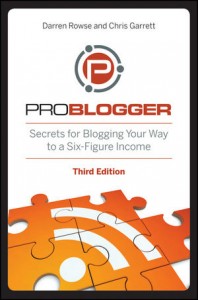 No, I'm not bringing in a six-figure income from this blog, but I am working on growing my blog and would like to eventually make a nice income from it.
ProBlogger: Secrets for Blogging Your Way to a Six-Figure Income teaches your how to set up a blog, promote it, and earn money from doings. It includes step-by-step instructions on how to make money, why niches matter, what tools are essential, how to take advantage of social media, and optimize your advertising along with much much more!
I have been using some of the tools in this book to help me grow my audience, attract new readers, and create new opportunities. I am hoping that by using the tools this book has given me that I will be able to continue to grow this site along with the others that I own and be able to call myself a Professional Blogger!
Buy It
You can buy a copy of ProBlogger: Secrets for Blogging Your Way to a Six-Figure Income, 3rd Edition for $24.99
Win It
You can enter for your chance to win a copy of ProBlogger: Secrets for Blogging Your Way to a Six-Figure Income ( a $24.99 value) using the entry form below.
All mandatory entries must be completed or bonus entries will be voided.
Disclosure: I received a promotional copy of this book in order to facilitate this review. All thoughts and opinions are my own.
If you haven't noticed, I gave the site a little face lift.
I took some cute pictures of the kids and really wanted to share them here and figured why not do it in a new header design?!
So there you have it, new pictures of the kids.
Tatertot of course wouldn't give me a smile but this picture of him just captures who he really is.
Have a look and let me know what you think!
I love feedback!
In case you cannot remember what it looked like before, here is a shot.


Personally, I'm digging the new look!
Thoughts?
I am all for trying new things and finding new blogs to read while making some new friends at the same time, so I am joining the fun of the To The Top Tuesday Blog Hop with MommyPR.com and OneLittleMister.com, feel free to link up and join in the fun with me just click the To The Top Badge to your right.