Posts Tagged 'Alex Malarkey'
x
Hi everyone, thanks for stopping by!
Things are a bit of a mess over here right now and I am in the process of repairing broken links and photos. You are definitely welcome to poke around as I am working behind the scenes. I am still working hard to get things fixed around here. All posts from 2014, 2013 and most of 2012 should be working without any problems now.
Thanks!
Anne
4/14/2014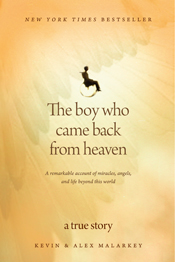 I recently had the chance to read The Boy Who Came Back From Heaven by Kevin Malarkey. This book chronicles the story of Alex Malarkey and the time he spent in heaven during a coma after an awful car accident on November 14th, 2004.
At the scene of the accident, Alex was presumed dead however he prevailed. He suffered a traumatic injury to his brain and an internal decapitation.
The Boy Who Came Back From Heaven is inspirational. I thoroughly enjoyed this book and feel that it taught me just how valuable life can truly be.
you can learn more about the book in the book trailer below:

You can also visit The Boy Who Came Back From Heaven website for more information.
Disclaimer: I received a copy of this book at no cost to me in exchange for my honest review.