Summer is fast approaching and our family is looking forward to some serious fun. We already have a few extra fun things planned away from home but we are also planning on staying close to home, family and my parent's pool!
Ellie's first time in the pool, Summer 2012.
Every year, the kids look forward to the opening of the pool and then they spend countless hours in it until summer comes to an end. So far, 3 of my children have taught themselves to swim in that pool and it's just a matter of time until the last 2 follow suit.
Since we like the kids to be safe and have fun in the sun, we like to start them out at an early age and provide them with the proper pool gear.
Each of my kids started out in the water by using a SwimWays Baby Spring Float to enjoy the water, have some shade from the sun and just enjoy time in the water with the family.
Ellie in her SwimWays Spring Baby Float, 2013.
SwimWays has been teaching children to swim for over 40 years, making it easy for parents to share their love of water while building their child's confidence.
I've always turned to SwimWays baby floats for the kids because they are for kids ages 9-24 months so it's a great starter float for them. I'm also a huge fan of the removable/adjustable sun canopy (with 50+UPF) because I know they are getting that added protection from the sun as well.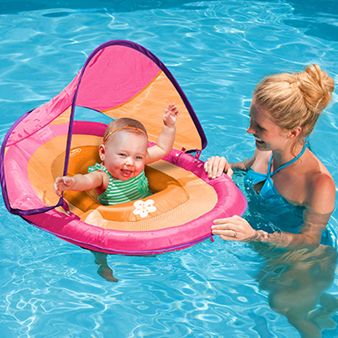 The fabric covered inflatable ring and the mesh seat provide little ones with a comfortable place to sit and enjoy the water.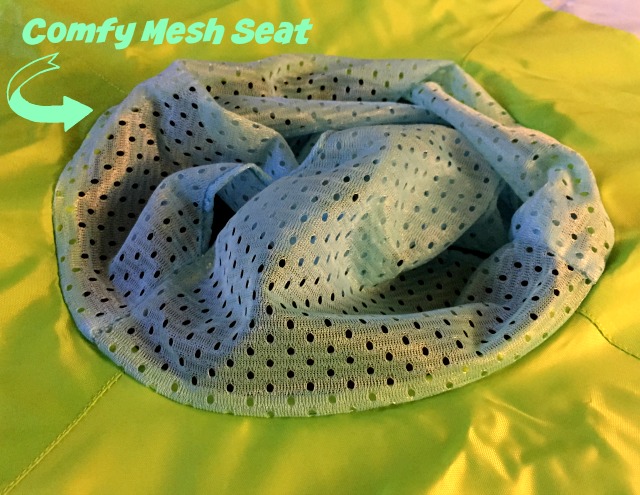 SwimWays created the Swim Steps line of products to help children become confident swimmers. The SwimWays Spring Baby with Sun Canopy is a Swim Step 1 for water introduction. Swim Step 2 means your child is ready to paddle and splash and Swim Step 3 is when they are ready for you to teach them to swim.
Overall, the SwimWays Baby Spring Float is the perfect way to introduce kids to the water and allow for them to be safe while they splash and play and we can't wait to get Joey in the water with his, now if Mother Nature would just give us some nicer weather!
Buy It
You can grab your own SwimWays Baby Spring Float at a Toys r Us near you.
National Learn to Swim Day
National Learn to Swim Day is May 16, 2015. This day is designed to remind parents and guardians to kick off summer safely by engaging their children in water safety and swim instructions.
SwimWays believes that swimming is an important life skill and that all children should have the opportunity to learn to swim. This will be the fourth annual National Learn to Swim Day.
For tips on teaching your child to swim, check out the SwimWays Teach Me to Swim site.
Connect
Be sure to connect with SwimWays on Facebook and Twitter.
Twitter Party
Please join us for our #SwimWays Twitter Party on Friday, May 15 from 1-2 PM ET. Click here for more information.
The following two tabs change content below.
Anne is a 30-something full-time SAHM mom of 5 ranging from 3 to 17 and grandma of 1 who resides in Ashwaubenon (Green Bay) Wisconsin. She started blogging in 2008 as a way to regain her sanity. She enjoys coffee, chocolate, cheeseburgers and vodka along with spending time with her husband and kids.