I know by now, many of you are probably wondering how my tale of Christmas 2009 ended.
I have received many inquiries as to how we finally gained access to our home.
Did we call the fire department?
Did we call a locksmith?
Did we break a window?
Did we finally get a hold of the E.A.R.L.?
Well….of all of those options…..None are the correct answer.
After going through every key my mom had in her house, checking every door and window only to discover that our house was locked up tight, my Alex did the only thing we could do. He took all of his Tae Kwon Do techniques that he has learned over the years (he's a 2nd degree black belt), walked around to the side of our garage, raised his leg and lined it up just perfect and kicked the door precisely at the knob and low and behold….We.Were.Finally.In.Our.Garage.
There was minimal damage (thank god, because if the E.A.R.L. were to ever notice, we'd be dead for sure.)
I'm thinking it's also a good thing that we didn't lock the door from the garage to the house because then we would have been royally screwed!
After our successful break-in, we headed off to my parents house to spend Christmas with my mom's side of the family and partake in the White Elephant exchange. I was lucky enough to win my old corded phone, Circa ohmahgawd I had that phone when I was a teenager, in addition to a 2008/2009 Phonebook. Check it out.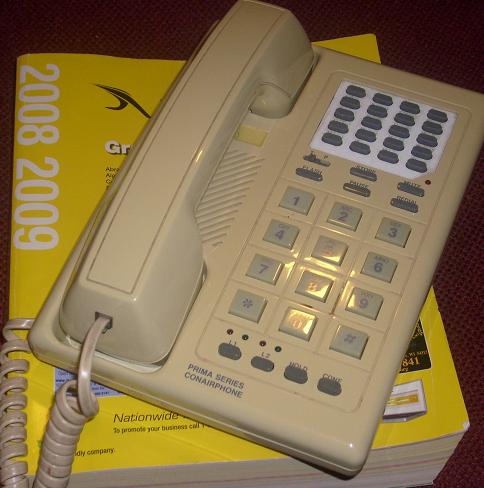 It came complete with the phone numbers of all my old friends, boyfriends etcetera. How much better could Christmas get?
There was a brief conversation with my Grandmother (I.WAS.SHOCKED.) She even referred to my children by their actual names. The only part she didn't succeed at was when she opened her gift from us, a frame with pictures of my children, she pointed at the Libby in the picture and referred to her as Anne (me).
After the festivities at my parent's house, I returned home, sent the kiddos off to bed and went on my merry way to prepare for Santa (Read: Put out all gifts from Santa by myself, stuff stockings and remove all refuse from the house while everyone else sleeps including the Alex).
At approximately 11:03 pm my head hit my pillow after having been awake for over 36 hours. I am told that by 11:05, I was asleep.
The kids slept until 7:00am (1st time ever!!! on Christmas Day!!!!) and then we were off to open all of their worldly treasures from the man in the suit.
(EPIC MOM FAIL AHEAD)
This is the part were I would normally share pictures with you of 3 children ripping gifts open and creating a HUGE mess of wrapping paper, packaging and twist ties in addition to candy wrappers spread across my house.
But.
Yes, there is a but.
I was a bad parent this year and failed to retrieve my camera and take any pictures of my children opening their gifts.
Bad mommy!
Moving on.
After their gifts were open, batteries inserted, and all things assembled, I passed the fuck out on the couch until 11:00am.
Once I got up, it was a race to shower, get dressed and arrive at my in-laws by noon for a yummy Christmas Day lunch of Ham and scalloped potatoes, Cauliflower & Broccoli with cheese sauce, Ham, Chicken Parmigiana, stuffed mushrooms, chutney, caramelized onions and bread pudding. It was scrumdiddlyumptious!
So, after eating eleventy billion plates full of food, the kids finished opening the remainder of their gifts from the grandparents, we loaded everything and everyone up and made our way home to empty the contents of the truck and off to my parents, this time to spend Christmas with my parents, sister and brother-in-law.
We open what seemed like a pile of never ending presents.
I was THRILLED to get new bedding from my parents along with some other great things (like a sweet ass bag for our New York trip in 2010 for BlogHer10).
Once all was said and done we had our Christmas dinner (pizza from Papa Murphys) and again stuffed ourselves silly.
Zack & The Libby remained at my parents house for the night while the Alex, myself and the Alexander made our way home.
All in all it was a good, exhausting but fun Christmas.
I've been trying to figure out how I managed to survive it all and remain sane.
I would like to say that it was the alcohol and I drank myself into a drunken stupor.
But I can't even use that excuse because I NEVER had time to enjoy an alcoholic beverage.
I did this all on numerous cans of Diet Cherry Pepsi.
Oh and the awesomeness that was the Twice Baked Potato Casserole I made!
Hope your Christmas was a great as ours!
The following two tabs change content below.
Anne is a 30-something full-time SAHM mom of 5 ranging from 3 to 17 and grandma of 1 who resides in Ashwaubenon (Green Bay) Wisconsin. She started blogging in 2008 as a way to regain her sanity. She enjoys coffee, chocolate, cheeseburgers and vodka along with spending time with her husband and kids.